Volatility Is Only Making Matters Worse for Hedge Funds
(Bloomberg) -- This was meant to be Deepak Gulati's moment.
The hedge fund manager has been waiting for the return of market volatility to help him recover losses after years of calm markets hurt his $955 million firm. Yet even with the recent whipsaw in stocks, Gulati hasn't made any money through the first 10 months of the year.
Wide swings in prices, a waning bull market and rising rates were seen as the elixir that the $3.2 trillion industry needed to overcome years of subpar performance. But hedge funds got pummeled in last month's market swoon and are headed for their worst year since 2011.
"They should have made money," said Arvin Soh, a New York portfolio manager at GAM Holding AG, a Zurich-based asset management firm that invests in hedge funds. "Big picture, hedge funds are strategies that are meant to deliver during periods of uncertainty and profit from dislocations, which we have seen plenty of this year."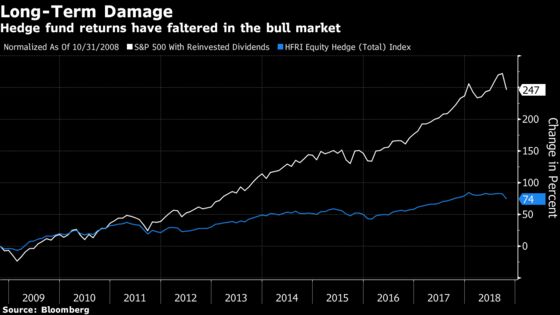 Soh, who has invested client money in hedge funds for 15 years, predicts that given the industry's performance this year the pressure on managers to close funds or reduce fees will only intensify.
Fund managers already struggling with volatility are facing another challenge: price moves have become more pronounced among the companies that hedge funds expect to rise. The volatility of the top 50 stocks that funds are wagering on is currently at the highest levels since 2010 relative to price swings of the S&P 500, according to a Nov. 20 Morgan Stanley report.
It's not the first time the industry has been tripped up by volatility. In 2011, as Europe's sovereign debt crisis roiled global markets, funds lost an average of 2.1 percent, according to data compiled by Hedge Fund Research Inc. A slew of managers were forced to close their businesses.
Gulati, who heads Argentiere Capital in Zug, Switzerland, focuses on betting on price swings across markets and only posted gains of about 1 percent during the market turmoil in February and October.
The money manager, who was formerly head of global equity proprietary trading at JPMorgan Chase & Co., has told investors that it's been difficult to profit in part because volatility has been limited to stocks. Wide market moves will need to be sustained before managers who focus on such a strategy can turn things around.
"Let's not forget one thing: equity markets are up on the year," Gulati said in an interview. "It's not like we have entered yet at all into bear market territory." Risk premia, or the payoff that investors expect for holding riskier assets, "has not expanded at all," he added.
Soh said managers need to assess whether they can navigate these markets. Those who stick it out must adapt, especially given that investors can park their money in cheaper alternatives, he said.
Hedge funds have been stymied by obstacles including the rise of algorithmic trading and restrictions set after the financial crisis that limit the risk managers can take. The industry's client base has also broadened over the years. Pension plans and other large investors, for example, are more risk averse than wealthy individuals.
Equity hedge funds, which led industry losses last month, have become less trading oriented compared with other strategies and that limits their ability to navigate unsettled markets. The years-long rally in stocks has also led hedge funds to primarily bet on companies more than against them, pushing them toward a trading style that's akin to mutual funds.
"Volatility only helps when you have an information advantage over the market," said Don Steinbrugge, managing partner of hedge-fund consulting firm Agecroft Partners. "And most stock funds that focus on large companies in developed markets don't have that."
Gulati isn't giving up, even after two years of losses erased all the gains made since his fund's inception in 2013.
"What happened in October is long lasting," he said. "It's only the start, if anything."