Hedge Funds Shunned on Principle by $20 Billion ESG Manager
(Bloomberg) -- A pension firm in Denmark that has a reputation for enforcing some of Europe's toughest ethical investing standards says it won't do business with hedge funds.
Anders Schelde, the chief investment officer of AkademikerPension, says the external allocations the $20 billion investor makes exclude hedge funds because "I don't think they create the value they say they do."
Schelde said he sees no point in trying to identify top performers. "The only thing we know for sure is that they want 2/20" and "we don't want to finance that." (Hedge funds typically charge a management fee of 2% of total assets, and a 20% performance fee from profits.)
Schelde says AkademikerPension's requirements when it comes to environmental, social and governance goals steer its choice of external managers, to which it allocates about two-thirds of the total portfolio. But he linked the decision to exclude hedge funds to costs rather than ethical considerations.
"It's not written down anywhere that we can't" use hedge funds, Schelde said. "But we don't. I guess you could call that a principle."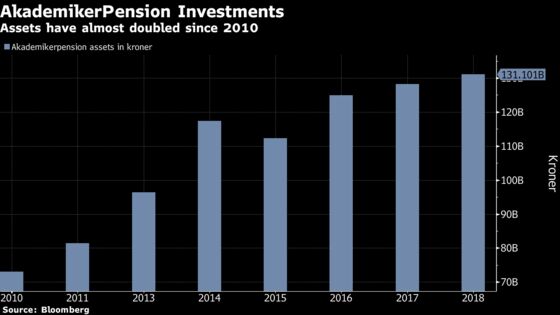 Last year, AkademikerPension dumped almost $100 million in oil stocks and has since blacklisted bonds sold by China, citing the country's human rights record. The World Wildlife Fund ranks AkademikerPension No. 1 among Danish asset managers for its climate focus, and the Principles for Responsible Investment this year picked it as one of 32 global investors for its leader group.
"We have our own exclusion lists that the asset managers have to follow," Schelde said. AkademikerPension rates "all our asset managers, either A, B or C." And "if a manager gets a C we can't use them, no matter how good they are," he said.
Schelde says he even tries to engage with asset managers that AkademikerPension doesn't use in its portfolio. He points to BlackRock Inc. as an example. "We came down with different conclusions in regard to Mizuho coal-financing activities, so it is important for us understand why BlackRock voted as they did," he said.
Read: BlackRock Voted Against Mizuho Shareholder Climate Resolution
The Danish fund's current external managers include Pimco, J.P. Morgan Asset Management, Aberdeen Asset Management and Fidelity Investments, among others, according to its latest public list.
AkademikerPension, which recently changed its name from MP Pension, hasn't yet dropped any external managers because potential stragglers have so far pledged to fix their issues, Schelde said.
At the same time, there's room for more external managers if they can live up to AkademikerPension's ESG standards, Schelde said.
"Right now, we are looking for a new high-yield asset manager," he said. "We will only choose one that gets an A or B rating."