The Fate of Hedge Funds Never Turned on So Few Stocks
(Bloomberg) -- As a group, hedge funds have been backing away from the stock market even as its dramatic rally added trillions of dollars to share values since Christmas. But one aspect of their faith is rising: the belief that the stocks they do own are the right ones.
It's visible in a measure of concentration that plots how much of the average hedge fund portfolio is dominated by its biggest holdings. According to quarterly filings compiled by Goldman Sachs, the top 10 holdings on average made up 70 percent of a fund's long portfolios, the highest since at least 2002.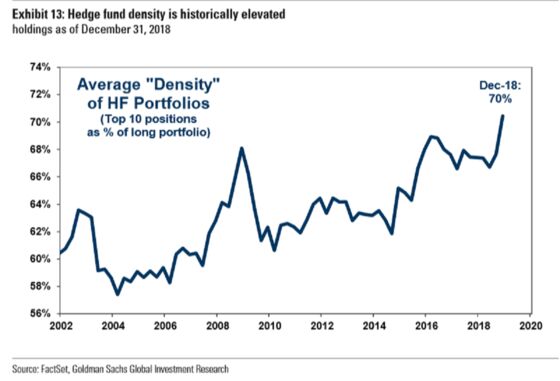 The five stocks that appeared most frequently among the top 10 holdings of hedge funds are: Amazon, Microsoft, Facebook, Alphabet and Alibaba, data from Goldman Sachs showed.
"Many hedge funds have found that a majority of their performance is driven by their best ideas, which is causing them to increase the concentration in these names," said Don Steinbrugge, managing partner of consulting firm Agecroft Partners. "Some managers have begun offering a best idea strategy, which is highly concentrated and only includes five to 10 stocks."
The confidence stands in contrast with the industry's overall subdued risk appetite. Prime brokerage data from major banks shows hedge fund clients have yet to embrace the equity rally that has sent the S&P 500 up almost 12 percent for its best start of a year in three decades. Net leverage, a measure of risk taking, sat below the 30th percentile in a 12-month range, data from Goldman Sachs and JPMorgan showed.
At Morgan Stanley, hedge fund clients have seen their leverage fall to 46 percent from 49 percent at the end of last year. The decrease in the face of higher stock prices signals a deterioration in sentiment because if they had done nothing, the market's move alone would have pushed their leverage to 54 percent, the firm estimated.
The tendency to pull back from the market while focusing on high-conviction stocks is exemplified by Third Point, whose main fund lost 12 percent during the fourth quarter and is up 2.9 percent this year through January. After cutting exposure in late 2018, the firm has since stuck to its "moderate" positioning, convinced that a decade of central bank monetary easing that lifted risk assets came to an end last year. At the same time, it's looking to add "good stocks."
"While our positioning means we have not kept up with indices in the first few weeks of the year, we expect volatility to re-emerge and are well positioned to take advantage of sell-offs, especially when good stocks are driven down in correlation trades or caught up in an ETF or quantitative rout," Third Point wrote in an investment letter last week. "This is essential."
Aversion to stock picking is weakening as years of persistent outflows from active funds ease. In January, mutual funds that differentiate between companies shed $4 billion in outflows, down from an average of $26 billion a month last year, data compiled by Investment Company Institute showed.
Owning the right stocks is never easy but there's evidence professional money managers have an edge. A VIP list of the industry's 50 most favored stocks compiled by Goldman Sachs has beat the market by 0.6 percent a quarter since 2001. Up 15 percent this year, the basket has again outperformed the S&P 500.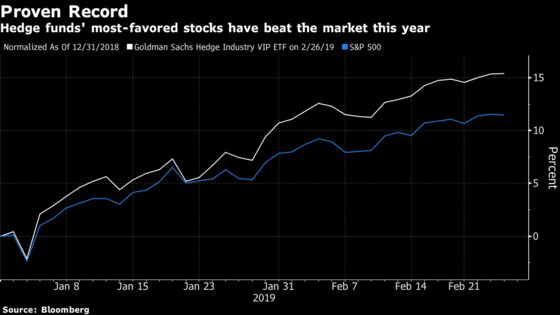 Stocks that recently joined the VIP list include: GoDaddy, Marathon Petroleum, SS&C Technologies, Dollar Tree, Electronic Arts, Micron, Dell Technologies and
HCA Healthcare.