Hedge Funds Cheer Tencent Stake in Chinese Video Streamer
(Bloomberg) -- Bilibili Inc. is earning its moniker as one of the more promising technology stocks to go public out of China this year, and hedge funds are cheering Wednesday's rally.
The Shanghai-based video streaming service's ADRs rose the most in more than a month to a fourth-month high above $15 per share after Tencent Holdings Ltd. announced plans to invest more than $300 million in the company. Shares of Bilibili sit above two of their key moving averages as they climbed as much as 16 percent intraday.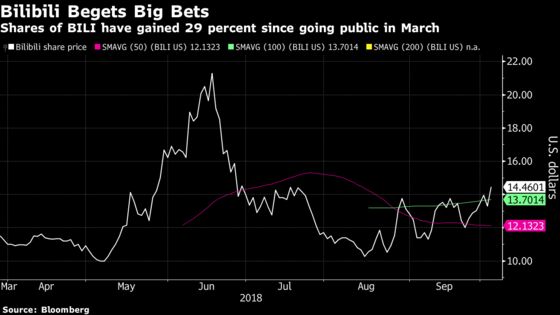 Tencent, a technology giant also based in China, will now join the ranks of other major shareholders: Tiger Global Management, Wells Fargo & Co., JPMorgan Chase & Co., BlackRock Inc., and Alkeon Capital Management. Tiger Global led the list as the largest stakeholder with a three percent stake representing 5.8 million shares. Tencent will beneficially own about 12.3 percent of total issued shares after the completion of the transaction.
After holding an initial public offering in March, Bilibili rose more than 70 percent before paring some of those gains in late June. Tariff tensions between the U.S. and China, in addition to pressure on the broader markets, weighed upon cross-border IPO listings. Despite those headwinds, Bilibili remains up 29 percent from its IPO price. Its lockup expired at the end of September.