Hedge Funds at the 'Core' of Stock Slump May Be Done Offloading
(Bloomberg) -- One quantum of solace for bruised stock bulls: Some of the usual suspects behind last week's rout may be done frightening markets.
Equity long-short hedge funds are among the worst-performing categories this month, along with risk-parity investors and balanced mutual funds, according to JPMorgan Chase & Co. -- a sign they helped fuel the market slump. Having slashed exposures amid the carnage, the deleveraging could now be over, according to the bank's strategists.
"We have been flagging in recent weeks the vulnerabilities emanating from equity long-short hedge funds and multi asset funds such as risk-parity and balanced mutual funds," strategists including Nikolaos Panigirtzoglou wrote in a note dated Oct. 12. "Have the above types of investors, at the core of the recent equity market correction, capitulated? The answer is yes to a large extent."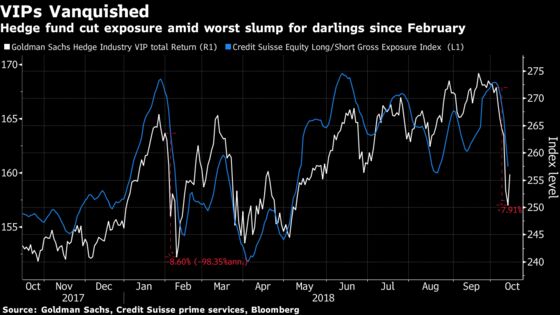 Equity funds have seen the most pronounced shift. The $900 billion universe of long-short managers cut exposure for seven consecutive days through Thursday to the lowest level since August, data from Credit Suisse's prime services show. That marked a reversal for the funds, which had been relinquishing defensive positions in the run-up to the selloff.
Before rebounding on Friday, a Goldman Sachs Group Inc. basket of the most popular hedge-fund long positions fell 7.9 percent over six consecutive days of declines, the longest losing streak in two years. By comparison, the S&P 500 Index fell 6.7 percent.
Some hedge funds were able to avoid the worst of the damage: Funds tracked by Credit Suisse declined just 3 percent this month through Thursday, half the drop posted by the S&P 500.
Given that global stocks bled $3.3 trillion in market value last week, there's plenty of blame to go around. Though quantitative traders have drawn ire in some quarters, strategists like Wells Fargo's Pravit Chintawongvanich have noted that the likes of risk-parity managers are an unlikely culprit since their losses were relatively minor.
Meanwhile, by Oct. 9, hedge funds had increased their bullish bets on U.S. stocks to the highest since February, and the second-highest in five years, according to the latest data from the Commodity Futures Trading Commission.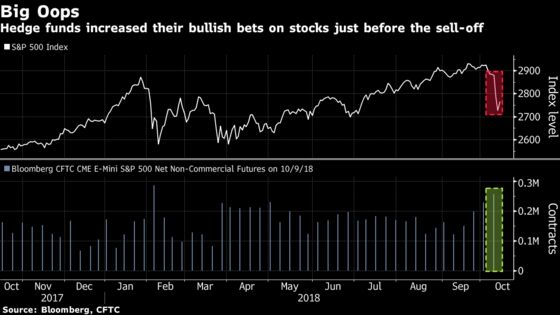 According to Credit Suisse International Wealth Management's Michael O'Sullivan, much of the selling was done through exchange-traded funds. Investors pulled more than $10 billion from U.S. asset-tracking ETFs, the largest weekly outflow in four months, Bloomberg data show.
"A good chunk of this has been enabled by ETFs, and together with some hedge funds (long-short funds in particular) heavily positioned in U.S. growth/momentum equities," O'Sullivan wrote in a Sunday note to clients. "These were forced to unwind holdings as bond yields and volatility rose."