Hedge Fund Warns Markets Are Too Complacent of Hard Brexit Risk
(Bloomberg) -- Want the lowdown on European markets? In your inbox before the open, every day. Sign up here.
Investors continue to underestimate the risk of a hard Brexit that could push the pound even lower, according to an artificial intelligence-driven hedge fund run by two former JPMorgan Chase & Co. derivatives traders.
"I think a no deal Brexit is more likely -- but not my base case -- than is priced into the market," said Damien Loh, Singapore-based chief investment officer at Ensemble Capital Pte Ltd. "The base case for me is the pound gets weaker before it gets stronger."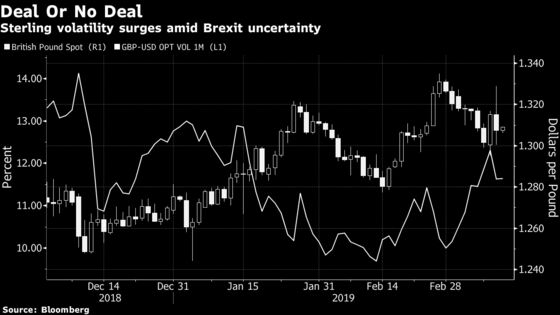 Loh's comments come after U.K. lawmakers rejected Prime Minister Theresa May's latest Brexit deal on Tuesday, sending short-term sterling volatility soaring to its highest since 2016. Parliament will decide Wednesday and Thursday whether it will vote for a no-deal divorce from the European Union or ask for an extension -- a move that would be welcomed by markets.
The pound has gained 2.6 percent this year to become the top-performing Group-of-Ten currency against the dollar amid hopes Britain will not violently crash out of the bloc. Cable was 0.1 percent higher at 1.3089 per dollar in Asian trading Wednesday, reversing some of Tuesday's 0.6 percent losses. One-week volatility remains elevated.
Loh reckons a no-deal Brexit could still happen after an extension.
"No one is even considering the EU not allowing them to do so -- unanimity is required for an extension to be allowed," he said. "As no one will be able to agree on anything and by default as opposed to anyone intending to, a hard Brexit occurs."
For now, markets are hoping for and favoring a delay in Britain's exit plans, said Bart Wakabayashi, Tokyo branch manager at State Street Bank & Trust.
"The longer the government delays its decision, hopes over the possibility of another referendum would grow among market players to intensify the view that Brexit could be defeated," he said.