Hedge Fund That Survived Trial by Fire Bets on Brazil's Currency
(Bloomberg) -- A Brazilian hedge fund whose assets plunged 95 percent in 15 months is clawing its way back: Returns are beating most of its peers and assets under management are climbing again as bullish bets pay off.
Gauss Master Fund has returned almost 17 percent since July 31, about 13 percentage points more than its benchmark, data compiled by Bloomberg show. Fund manager Fabio Okumura said he's betting on an 11 percent rally in the Brazilian currency in the next three months after posting gains last year on investments in interest rates and stocks.
"We survived a trial by fire," Okumura said in an interview. He and his partners committed to never redeem their personal investments "even during the worst moments," he said, "and now we're posting huge positive returns again."
Asset levels plunged to 112 million reais ($30 million) in August from a peak of 2.29 billion reais as investors fled due to poor returns. The near-death experience led to a split between Credit Suisse Group AG, the former controlling partner of the fund, and Okumura.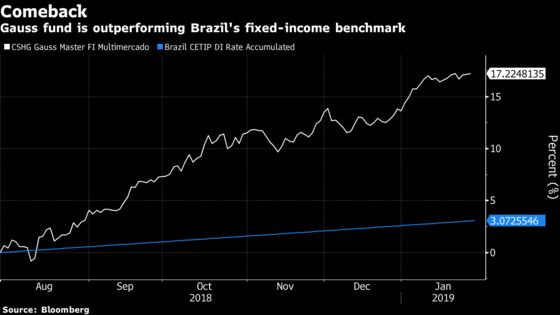 Okumura, the controlling shareholder and chief investment officer at Gauss Capital Gestora de Recursos Ltda., purchased along with his partners Credit Suisse's stake when he left the bank last year. The new company running the fund started operations in January, and assets at the flagship Gauss Master Fund, formerly the CSHG Gauss Master Fund, have increased 53 percent from their lowest level, to 172 million reais.
The fund has outperformed 85 percent of its peers in the past three months, data compiled by Bloomberg show. Since its start in October 2014, the fund's performance is 35 percentage points higher than the benchmark.
Last year's election was key to the gains.
"We saw a bigger chance for Jair Bolsonaro winning the October presidential election than our competitors and a more positive outcome for the markets given his victory," Okumura said. To capitalize on that view, which proved prescient, Gauss invested in long-term interest rates, including futures for January 2025.
Now he sees more opportunities in Brazil's stock exchange and currency, on the expectation that emerging markets will outperform because of the Federal Reserve's likely pause on interest-rate hikes in the first half of 2019 and strong U.S. economic growth in the second half of the year.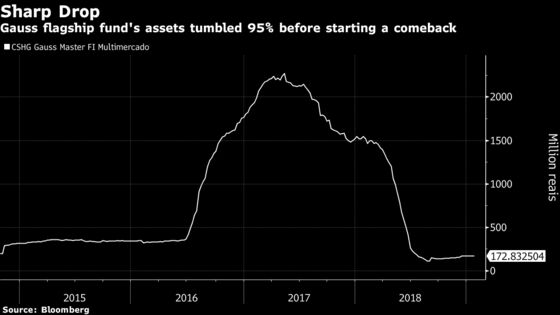 "Interest rates in Brazil will remain at a record low, and the nation's economic team is saying they will prioritize much-needed social security reforms," he said. "So we will probably see robust economic growth in Brazil, with investments from companies and many capital needs."
He's expecting the local currency to rally to 3.35 reais per dollar, as foreign investors put more money to work in Latin America's biggest economy. That compares with projections of 3.75 reais per dollar for April on futures markets at Brazil's derivatives exchange.
The goal is to get Gauss's flagship fund back to 2 billion reais in assets in about 1 1/2 years, with more diversified clients and distribution than before, said Sergio Campos, the firm's chief executive officer. In all, counting its pension and credit funds, Gauss has about 1.5 billion reais under management, according to Campos.
The idea is to reach retail investors, family offices, private-banking clients and institutional investors through multiple distribution platforms, either independent or those owned by banks. Most Gauss clients in the past originated at Credit Suisse.
The credit fund has about 40 percent of its assets in cash, and invests only in high-grade local bonds. "We are planning to also launch other funds with more sophisticated credit strategies than the ones we have today," Campos said.
Campos has an individual stake at Gauss and also participates through Vectis Partners Holding SA, where he's a partner along with investors including Paulo Lemann, son of billionaire Jorge Paulo Lemann. Other investors at Vectis are Alexandre Aoude, Deutsche Bank AG's former chief in Brazil, and Patrick O'Grady, a former XP Investimentos SA partner.