Hedge Fund Says Pick Anything But the Real to Benefit From Brazil's Rally
(Bloomberg) -- Investors looking to jump into one of the world's best performing markets should put their money into Brazil stocks or local rates and stay far away from the currency, according to one of the best performing funds in the country.
Rodrigo Azevedo, a founding partner at Ibiuna Asset Management, which manages 6.6 billion reais ($1.8 billion), says the real is a bad bet amid rising interest rates in the U.S. and a stronger dollar globally. Stocks and the local interest rate curve offer better returns, he said, and even if they are all denominated in reais, outsize gains in those asset classes will compensate for lackluster currency performance.
Brazil's benchmark equity index is up 13 percent since Jair Bolsonaro emerged as the favorite to win the presidency in mid-September, the best among more than 90 gauges tracked by Bloomberg. The former army captain's strong lead was welcomed by investors, who hope he will overhaul Brazil's pension and tax systems, and privatize dozens of money losing state-run companies. Approval of the pension reform, which has been in the works for at least two years, will be the trigger for the next leg of the rally, according to Azevedo, a former central bank director.
"The real is the worst asset to surf the Brazil bull wave," he said in an interview.
While the Ibovespa reached a record high after the election, the currency remains stuck around 3.7 per dollar. It's up 11 percent since mid-September, but still well off its highs for the year.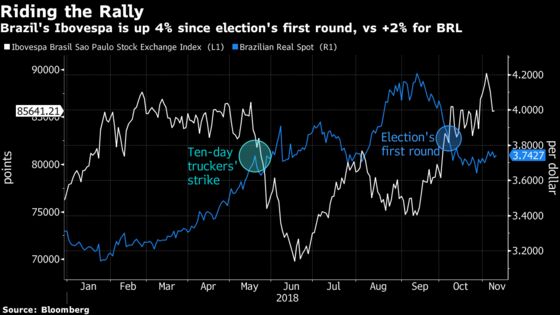 "Could the real go toward 3.5 per dollar? Yes," he said, adding that if it does, "stocks will have gained much more."
Ibiuna's 3.9 billion real fund has gained an annualized 17 percent in the past five years, outperforming 95 percent of its peers. It's up about 13 percent in the past year.