Hedge Fund Run by BofA Veterans Trounces 99% of Brazil Peers
(Bloomberg) -- Former Bank of America Corp. executives are the masterminds behind a Brazil hedge fund that's beaten almost all of its local rivals in the past year.
The equity-focused Dahlia Total Return fund is up nearly 30% in local currency over the past 12 months, more than five times the average return for its peers and only lagging the Truxt Long Bias and Itau Hedge Plus funds in a list with 174 Brazilian peers. Dahlia's gain reflected a bullish bet on Brazilian stocks and made it a magnet to investors, with the fund totaling near 3 billion reais ($552 million) in net inflows over the same period.
The fund, managed by Dahlia Capital, outperformed by picking Brazilian firms that managed to profit from all-time low rates, even as the nation's stock market lagged its emerging-market peers, said Sara Delfim, who helped found Dahlia Capital in 2018 after a nine-year stint at BofA. The nation's benchmark Ibovespa index is down 8% year to date.
"Even with slow economic growth, low rates have allowed many of Brazil's companies to speed up investments amid the crisis," Delfim said in an interview. "Corporate results are bringing positive surprises on a daily basis."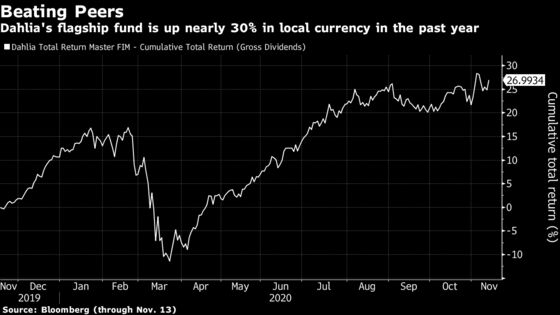 Dahlia's success showcases an under-appreciated aspect of the Brazilian economy today. With policy makers bringing interest rates to a record low without sparking a surge in inflation, companies have been able to improve their results even as the economy tanked amid lockdowns. Sitting at 2%, the benchmark Selic rate boosts firms in leveraged sectors, such as utilities, in a country usually known for its sky-high borrowing costs.
It's one of the reasons the fund thrived by betting on Eneva SA, a power generation company that's up 31% year to date. WEG SA, a manufacturer of industrial machines, and software company Totvs SA are also among the fund's top bets, Delfim said. Other holdings include firms that are sector leaders, such as car rental firm Localiza Rent a Car SA, apparel retailer Lojas Renner SA and beauty-products maker Natura & Co Holding SA.
Investors have been increasingly skeptical of how long Brazil's low-rate bonanza will last. Mounting concerns over the government's ability to keep its expenditures in check or to continue pushing its reform agenda are weighing on Brazilian assets, particularly the real, which is down 26% year to date, making it the world's worst-performing major currency.
"Reforms were hindered, but continue to advance," said Jose Rocha, another of the firm's founding partners, citing the recent sanitation bill as an example.
The main short-term risk is if Brazil's record unemployment rate sparks social unrest, which would limit the odds of austerity measures being passed, Rocha said.
Dahlia's flagship Total Return has about half of its assets in Brazilian equities, but also counts on positions in U.S. stock indexes, the U.S. dollar and Brazil's inflation-linked bonds. Dahlia currently has 15 employees and manages a total of about 8 billion reais, with most of its top echelon hailing from Bank of America's equity research team in Latin America.
The firm's creation is another side of the low-rate environment in Brazil, which is luring veteran banking professionals out of decades-long careers to create new money management firms. Investors are pouring money into Brazil's hedge fund industry at a record pace, a windfall for firms like Dahlia. Local hedge funds posted 89.4 billion reais in inflows through October, according to Anbima, Brazil's capital-markets association.