Hedge Fund Investors Clamor for Private Deals With IPOs Surging
(Bloomberg) -- Investors are increasingly betting on private markets -- and they want to use hedge funds to do so.
Private markets equities have emerged as the strategy most in demand among non-traditional offerings from hedge funds, according to a Credit Suisse Group AG report Tuesday. The appetite for growth and venture capital investments is increasing "as private companies and unicorns become a larger part of the capital markets ecosystem," according to the bank.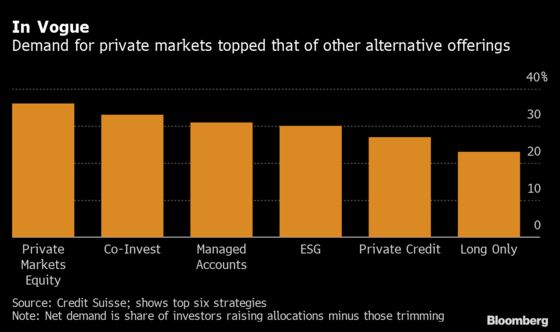 More than half of the investors surveyed said they are now using hedge funds to access private markets. That figure rises to more than 70% for family offices, endowments and foundations.
"We're seeing a positive blurring of the lines between public and private markets," Joseph Gasparro, head of content for Credit Suisse's capital services group in the Americas, said in an interview.
Firms including Tiger Global Management and Coatue Management have pushed further into private equity and venture investing, seeking to capitalize on demand for fast-growing companies and initial public offerings. Allocators such as New Jersey's pension fund are also eyeing these investments in the hunt for yield.
"As companies stay private for longer, managers and now investors want to be best positioned to capture some of those alpha opportunities before they go public," said Jaynita Sodhi, head of capital services Americas at Credit Suisse.
The firm surveyed 201 institutional investors from late December to mid-February with more than $800 billion in hedge fund investments.
Among the other findings:
About 70% of allocators plan to make changes to their portfolio this year due to the low interest rate environment -- and hedge funds are the favored asset class.
Strategies in the "limelight" include equities, especially with a focus on health care, as well as discretionary macro.
Regionally, Asia-Pacific and emerging markets are in vogue with greater China the most preferred country overall.