Hedge Fund 'Hotels' Burned Managers Who Sought Refuge in October
(Bloomberg) -- Hedge fund hotels are proving to be no respite for money managers.
Many of the worst-performing funds in the last several weeks had all piled into the same stocks, according to data compiled by Bloomberg. Favorites such as Electronic Arts Inc. and Wynn Resorts Ltd. lost more than 20 percent of their value in October and were among the S&P 500 Index's worst performers.
The results demonstrate the folly of rushing into popular trades and ratify the widespread view that there are too many managers chasing too few ideas. The crowded trades of long-short equity managers may have been behind their disastrous performance last month, while most other strategies managed to minimize losses or even make money.
"By the time the last fund decides to buy these stocks and the inevitable correction happens, only the best managers with serious risk management can actually make money," said Dariush Aryeh, chief investment officer of Geneva-based Fundana SA's fund of funds. "That means getting in early and mainly getting out before everyone decide to sell."
Hedge funds owned an almost 15 percent stake in video game maker Electronic Arts at the end of the second quarter, the most recent filings available show. That may have contributed to losses at Coatue Management and Third Point, which both reported October declines. Third Point also held Wynn as of June 30. That stock sunk 21 percent last month.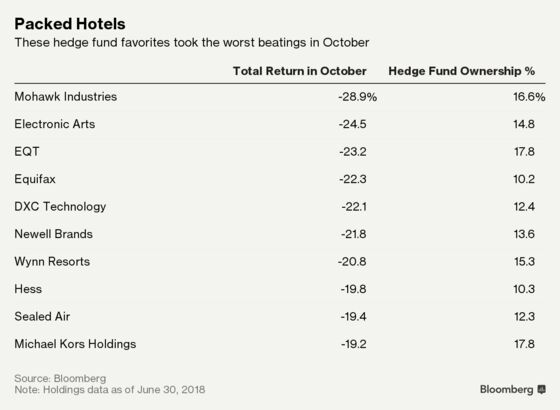 Long-short equity funds fell 7.2 percent, according to a Morgan Stanley report sent on Oct. 30. Some firms saw double-digit losses such as Horseman Capital Management, whose European hedge fund declined 16 percent and is down 21 percent this year, according to an investor letter seen by Bloomberg. The firm declined to comment.
Hedge funds' use of artificial intelligence and machine learning to scan through reams of data has led some firms to the same investment ideas.
"These reversals are brutal, typically exacerbated by algorithmic trading," said Sherban Tautu, who advises clients of SYZ Wealth Management in Geneva on how to invest $1.2 billion in hedge funds.
Several strategies persevered, even if they didn't make a killing. Some multi-strategy managers, who invest across assets from stocks to credit, eked out positive returns last month. Macro funds have fared well such as Brevan Howard Asset Management, which took advantage of October's volatility and posted positive returns.
And then there was renowned value investor David Einhorn. For most of this year, his Greenlight Capital took a drubbing betting against technology stocks. But in October the fund returned 1.2 percent -- hardly a fortune but proof that these days preserving capital can make you a winner.
Here's a roundup of various hedge fund returns: