Hedge Fund Takes on U.K. and Its Banks. Good Luck
(Bloomberg Opinion) -- A U.S. hedge fund is taking on the British government and major banks in protest at the pain inflicted on ordinary shareholders in the latest rescue of a troubled U.K. construction company. It is picking a tough battle, but its plan is far from doomed.
The company in question, Interserve Plc, revealed outline details of a restructuring package designed to cut its excessive leverage. The group said in November it expected to end 2018 with net borrowings of about 650 million pounds ($843 million), about five times estimated Ebitda for the year. The rescue plan cuts that to 275 million pounds.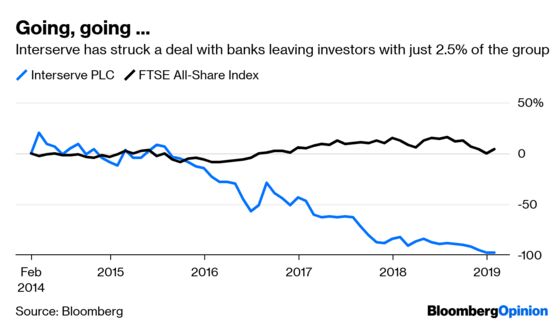 To get Interserve to this happier place, its lenders have agreed to inject up to 480 million pounds of equity by swapping debt for new shares that will give them a 97.5 percent stake in the company. Current shareholders, who will need to approve the plan, have also been allowed the chance to subscribe.
There's some clever tinkering with the remaining borrowings to serve financial and political aims. A big chunk of the residual debt will be moved from the group to a profitable, international subsidiary. Interserve will therefore become a U.K. construction business – a big domestic employer – containing net cash, with an indebted international operation on the side.
The government must be hoping that heads off the risk of another big U.K. corporate failure after the collapse of Carillion last year.
As for the banks, they have also agreed to looser terms on the remaining borrowings – with some interest payments getting rolled up and maturities pushed out. These tweaks probably amount to a haircut for the lenders – although we don't yet know the cost of this new debt package.
Don't cry for the lenders. The debt-for-equity swap offers compensation for what they are giving up. Right now, it's safest to assume Interserve's equity is valued at just under 500 million pounds, in line with the valuation at which the banks are chipping in. Add the net debt, and that implies an enterprise value of about 770 million pounds, or 5.5 times estimated 2019 Ebitda. That multiple isn't a bargain for sector. But if the repaired Interserve's valuation strengthens in due course, the banks will do well from this.
U.S. investor and 17 percent shareholder Coltrane Asset Management thinks the solution isn't to hand the company to the banks. It wants to hand the managers – except newish CEO Debbie White – to the dogs, and has called a shareholder meeting to remove them. The fund will have to argue that there's no immediate cash crunch, and the company can move forward with less drastic measures.
It has some sway. Analysts at Liberum point out that U.K. stock market rules require a 25 percent free float, implying the company will want existing holders to take a big chunk of the new shares being issued. Interserve's contracts may have clauses that depend on it remaining publicly traded.
But busting a deal that would appear to suit the government just fine won't be easy. If the naysayers think the banks are robbing value here, they will need to come with an alternative way of putting money in which works politically as well as financially.
This column does not necessarily reflect the opinion of the editorial board or Bloomberg LP and its owners.
Chris Hughes is a Bloomberg Opinion columnist covering deals. He previously worked for Reuters Breakingviews, as well as the Financial Times and the Independent newspaper.