Hedge-Fund Bear Clark Ups Short Bets to Record as Losses Mount
(Bloomberg) -- Even by his own standards, hedge fund perma-bear Russell Clark has never been this pessimistic.
In his boldest move against stocks, the money manager raised the net short position in his Horseman Global Fund to 111% of gross assets, according to an investor letter sent Monday. The famed short seller has persistently wagered against equities since 2012.
Clark is pitted against one of the longest bull markets in history, fired up by central bank interventions and low interest rates since the 2008 financial crisis. The S&P 500 Index has surged to a record, decimating bearish hedge funds and raising questions if the short sellers will survive long enough to profit from the next bear market.
"I can see all the problems with the markets, and I can see how they will unwind, and how we will make money from it," Clark, who runs London-based Horseman Capital Management's main fund, told clients in October. "The issue is timing."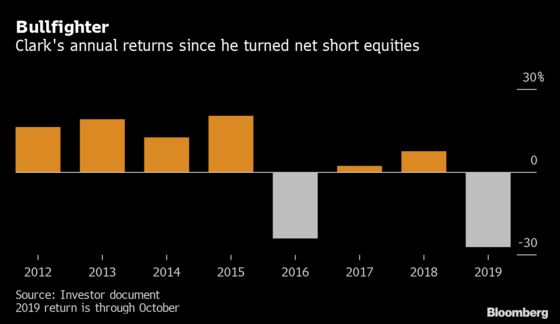 After years of double-digit returns, Clark hit a rough patch in 2016, when his fund slumped 24%. He's now on track for his biggest annual loss yet, with the strategy losing 27% this year through October. Its assets have declined to $263 million from $1.7 billion at the end of 2015.
Clark declined to comment beyond his newsletter.
The fund manager is not alone in flagging concerns. His London-based peer Crispin Odey has long been a vocal critic of central bank interventions, predicting market chaos as a result.
The world's richest individuals share Clark's concerns and are hunkering down for a potentially turbulent 2020. In a survey of more than 3,400 respondents by UBS Global Wealth Management, most expect a big drop in markets before the end of next year and 25% of their average assets are currently in cash.
Clark has wagered against autocallables, complex equity-linked securities that aim to generate regular income for their buyers. Investors hungry for yield have piled into them, artificially suppressing stock market volatility. Clark is betting that such trades will collapse and volatility will soar.
In his latest letter, Clark also expressed growing unease over the safety of derivatives clearinghouses, echoing recent comments by JPMorgan Chase & Co. and BlackRock Inc., among others.
He said clearinghouses are now "very risky" as regulations enforced after the global crisis have driven more business to the firms without adequate financial resources to combat threats. Clark said initial margin, a type of collateral to support derivatives trades, needs to rise by about six times for the financial system to be considered safe.
Born and raised in Canberra, Australia, Clark joined Horseman in 2006. He purchased the controlling interest of the firm from its founder John Horseman and other partners last month to show his commitment to the strategy.
"The investing world at large is about to discover the pitfalls of levered long investing at the end of the cycle," Clark wrote last month. "Exciting times indeed."