Health Stocks Lead Market Lower as FDA Departure Adds to Woes
(Bloomberg) -- Health care companies were among the worst performing stocks in mid-afternoon trading as investors weighed what FDA Commissioner Scott Gottlieb's surprise resignation could mean for the year's worst performing sector.
Almost every member of the S&P 500 Health Care Index traded lower, with high-flying biotechnology stocks and pharmaceutical companies leading the way down, as the index was on pace for its worst one-day sell-off since January. The decline comes amid mounting concerns related to "Medicare for All" legislation and despite a continued string of biotechnology buyouts.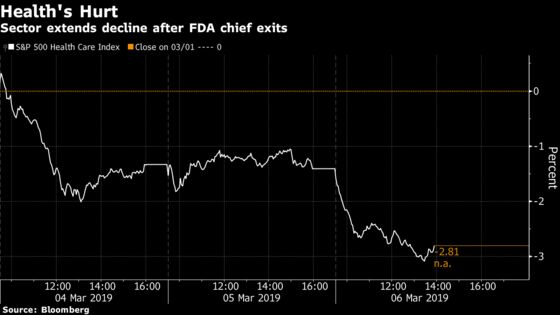 "You throw in the year-to-date performance within biotech and the medicare for all headlines (albeit viewed by most as noise and not viable) and the space feels pretty vulnerable," Jefferies healthcare sector specialist Jared Holz said in a message to Bloomberg News. A resolution of the FDA issue should happen shortly which should ease "some fears and lessen the uncertainty the resignation has created."
Read more: Street Shrugs Off FDA Chief Exit But Wonders Who Will Take Helm
The S&P 500 Managed Health Care Index, a basket of health insurance companies, is down more than 10 percent in eight trading days. The Nasdaq Biotechnology Index, a closely watched gauge of investor sentiment, is down 3.1 percent since the reports of Gottlieb's resignation surfaced on Tuesday.