Health Care Stocks Dwindle in London as Buyers Swoop on Bargains
(Bloomberg) -- The takeover of BTG Plc by Boston Scientific Corp. announced Tuesday confirms a clear pattern: U.K. health care companies keep getting gobbled up.
The maker of both radiotherapy treatments and snake venom antidotes is the eighth target in the sector to be acquired over the past 18 months, according to broker Panmure Gordon, which says the trend reflects the cheapness of British pharmaceutical stocks.
"We believe this rush of takeovers of U.K. companies highlights the general undervaluation" in the sector, analyst Julie Simmonds wrote in a note to clients after the BTG announcement sent its stock soaring by as much as 35 percent.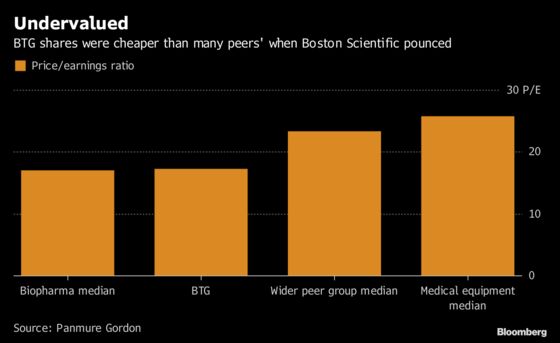 Simmonds said that rivals appear to be pursuing companies whose share prices have remained depressed following earnings disappointments. Prior to Tuesday's announcement, BTG shares had fallen about 20 percent in 12 months as uncertainty over licensing revenue and development delays caused analysts to re-think profit estimates.
The company, headquartered near London's Fleet Street, later reassured markets by upgrading its 2019 growth forecast in October, and once again just a week prior to the news it would be acquired.
Click here to read more about investor attitudes toward biotech stocks
Here are the other seven U.K. health care takeovers of the past 18 months:
Biotech Abzena Plc bought by private equity firm Welsh Carson Anderson & Stowe LP (August 2018)
Child specialist education and mental health firm Cambian Group Plc bought by CareTech Holdings Plc (August 2018)
Attention deficit hyperactivity disorder drug-maker Shire Plc bought by Takeda Pharmaceutical Co. Ltd. (completion ongoing)
Unlicensed medicines-maker Quantum Pharma Holdings Ltd bought by Clinigen Group Plc (September 2017)
Anti-ageing cosmetic treatment firm Sinclair Pharma Plc bought by Huadong Medicine Co. (October 2018)
Pharmaceutical technology and research firm Touchstone Innovations Plc bought by IP Group Plc (October 2017)
Molecular research and drug discovery firm Vernalis Plc bought by Ligand Pharmaceuticals Inc. (October 2018)