Hawkish Fed Means Dollar to Pass 115 Yen, $1.13 vs Euro: NatWest
(Bloomberg) -- The Federal Reserve's most important move Wednesday might have been the bump up in its longer-term projection for the policy interest rate -- and that's bound to help the dollar, according to NatWest Markets.
"We expect the dollar to keep benefiting from rising carry returns, with the euro and yen still at risk of making new one-year lows through $1.13 and 115 respectively over the next few months," Mansoor Mohi-uddin, the head of foreign-exchange strategy at NatWest in Singapore, wrote in a note. The euro was at $1.1704 and the yen at 112.63 per dollar as of 9:07 a.m. in London.
In the early days of the rate-hiking cycle that began in 2015, U.S. central bankers were lowering their longer-term expectations for the policy rate, and that countered the otherwise positive impact of monetary tightening on the dollar, Mohi-uddin said. They stopped lowering the forecast this year, allowing Fed hikes to support the greenback, the argument goes.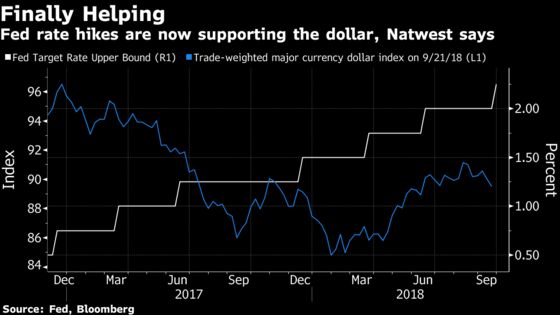 Fed officials have boosted their median estimate for the longer-term federal funds rate to 3 percent, from 2.875 percent in June. The Fed also bumped its current target range for the rate by a quarter point, to 2 percent to 2.25 percent Wednesday.
Through raising the longer-term estimate, the central bank is "signaling its current tightening hasn't become 'late cycle' yet," Mohi-uddin wrote. With the European Central Bank and Bank of Japan likely to keep rates on hold at least until later in 2019, that makes for a yield-premium boost for the dollar, the Natwest argument concludes.