Hated, Dumped, Forgotten: European Stocks Risk Irrelevance
It's frustrating to be a cheerleader for European markets these days.
Investors keep taking money out of the region's equities, with outflows marking all but two of the past 60 weeks. Strategists this year have called Europe an "investment backwater" and the "most crowded short." Cheap valuations haven't been enough to counter money managers' concerns ranging from volatile politics and an economic slowdown to trade tensions and the lack of big tech stocks.
"If you travel around the world constantly, there are so many times you have to face the question of the basket case of Europe," said Steen Jakobsen, chief economist and chief investment officer at Saxo Bank A/S. "If you have a conversation with a U.S. fund manager, he says, 'Why would I bother?'"
The data back this up. Investors pulled $4 billion from European stocks just in the week through May 1, Bank of America Merrill Lynch said in a note citing EPFR Global data. All the flows into the market since European Central Bank President Mario Draghi pledged in 2012 to do "whatever it takes" to preserve the euro has now been unwound, according to brokerage Sanford C. Bernstein & Co.
It's hard to imagine investors writing off nearly a fifth of global stock value. Increasingly, the fear is that many of Europe's troubles are structural, and overseas investors can't be bothered to delve beneath the headlines. This matters because foreign buyers make up a far larger portion of the European market than they do in the U.S.
Since the 1970s, the percentage of stocks in the European Union owned by foreigners has more than quadrupled to 45 percent in 2012, according to data from the Observatoire de l'Epargne Européenne. U.S. investors are often the marginal buyer and move faster than European institutions, said Edmund Shing, head of equity and derivative strategy at BNP Paribas SA.
While various analysts have predicted a renaissance in European stocks in recent years, citing their much cheaper valuations, the region has trailed the U.S., Hong Kong and Japan over the past five years. Members of the Stoxx 600 on average trade at 13.6 times estimated earnings for the next 12 months, compared with 16.6 times for those in the S&P 500.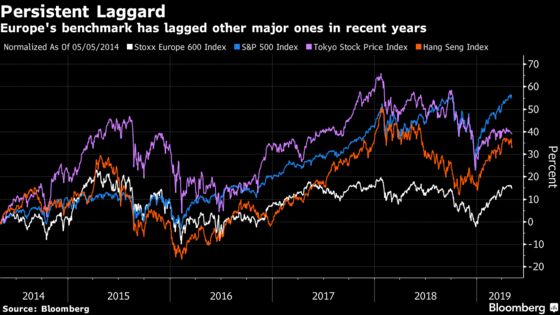 Many of the trends that have curbed interest in European equities look persistent. Slowing trade growth is bad for an export-driven region. Rising populism fuels the narrative of a disintegrating Europe. 'Japanification' -- aging population, low rates forever -- points to long-term economic decline. A winner-takes-all technology landscape favors American corporate giants like Google parent Alphabet Inc.
"When you combine all of that stuff, you've got a cocktail that looks pretty scary and has manifested itself in some very strange distortions," such as negative rates, said Kimball Brooker, whose First Eagle Global Fund has 17 percent of its $49.3 billion invested in Europe. And while European integration has its benefits, it's also prompted investors to consider its issues collectively, he added.
To European stock pickers, that doesn't mean the whole market is bad -- you just have to dig deeper. And they stress that many European companies sell to global markets anyway. There are good value opportunities to be found among companies whose shares have been punished by changing market conditions that are now adapting by restructuring their businesses, says Katrina Dudley, who manages three European funds from New Jersey for Franklin Templeton.
In Europe, it helps to zoom in. You can't just buy an index tracker. While U.S. small caps have gained in line with the S&P 500 Index over the past decade, in Europe, smaller stocks have outperformed the Stoxx Europe 600 Index by 55 percentage points. (U.S. small caps still beat their European peers by miles on an absolute basis.)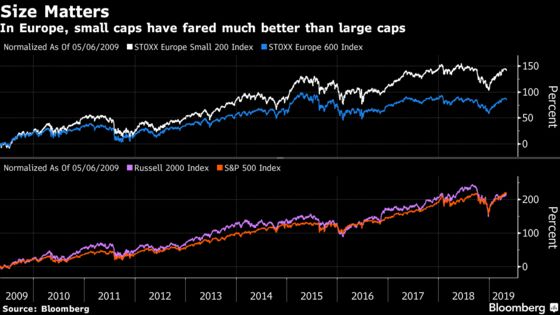 Europe does have innovative tech companies like the U.S., but their scope is smaller, says Philip Webster, director of European equities at BMO Global Asset Management -- like XING SE, the German equivalent of LinkedIn Corp., or Zalando SE, an online fashion retailer.
"These things are probably more often than not flying under the radar especially if they don't quite have the scale," he said.
Is there a discount for just being listed in Europe? Possibly. Some stocks with high correlation to U.S. names or high overseas sales exposures still trade at a discount to the global market, according to Bernstein. The opposite can also be true: European tech stocks are pricier than their U.S. counterparts partly owing to the former's scarcity.
And it's not that global funds have only flocked to the U.S. Since the Brexit referendum, $139 billion has left European shares, while $141 billion has entered emerging markets, according to Bernstein.
Over the past decade, U.S. and global equity funds have swelled, while European funds have grown far more slowly, according to Societe Generale SA. Though global stock funds invest partly in Europe, that's still bad news for allocation into the region.
But to Saxo's Jakobsen, it's not entirely fair to directly compare the U.S. and European markets, since the latter rely much less on public equity for financing. Many top-notch European firms simply are not listed.
Many investors are dismissing Europe unjustly, he says.
"There's very little fundamental understanding of how and why Europe works," he said. "Europe will never disintegrate, but that's very much the story. The further west you go the more you're asked to talk about that story. It starts in London, it gets very, very loud in the U.S. and even louder in Asia."