Has the Market Bottomed? Cases For and Against a Continued Rally
(Bloomberg) -- With the S&P 500 up more than 8 percent since its Christmas Eve meltdown, some chart watchers are calling a bottom to the bear market that never was. Others say, not so fast.
It's an exercise in perspective. Certain technical indicators and market internals are flashing green lights. Yet risks remain as reporting season nears and history suggests bottoming processes take time -- not two weeks. The S&P rose as much as 1.2 percent Tuesday for its third straight day of increases, before paring some of those gains.
Below is a compilation of bull and bear cases for a stock market bottom:
Monday's stock rally triggered a long-term buy signal for the first time since 2012, according to Sundial Capital Research Inc. The so-called Zweig Breadth Thrust is based on the volume of rising shares and occurs when momentum surges from an oversold level. The technical signal has preceded longer-term gains in U.S. equities in the past, Sundial President Jason Goepfert wrote in a note to clients Monday.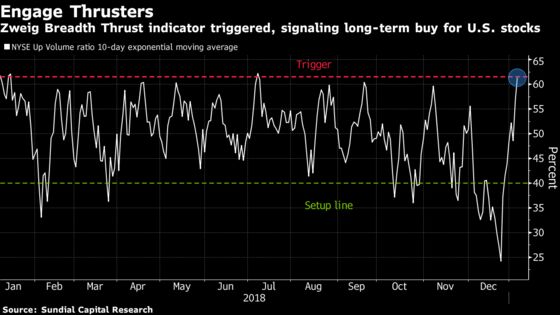 Since the Dec. 24 bottom, there have been two trading sessions in which the total number of S&P 500 stocks gaining minus those declining has exceeded 470. The first was the post-Christmas surge, when 99.8 percent of stocks advanced in the strongest showing since at least 1990. The second was Friday, when the benchmark posted its third strongest rally since 2012.
It was not just a select few stocks pulling the market higher.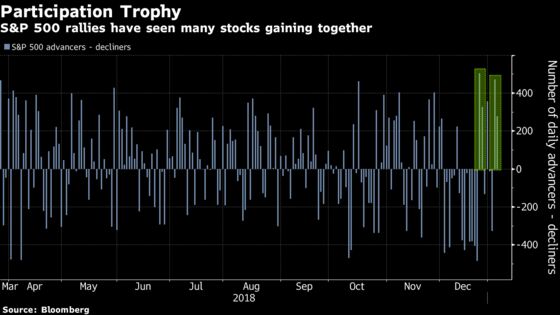 In another bullish signal, more economically sensitive sectors of the market have been leading gains so far this year. Energy stocks are up more than 7 percent while industrials and materials are also outpacing the broader market. Meanwhile, more defensive areas such as utilities, health care and real estate come in at the bottom of the leader-board.
The play-out can be viewed as a vote of confidence after recent economic data, from manufacturing gauges to jobs numbers, have shown a mixed picture.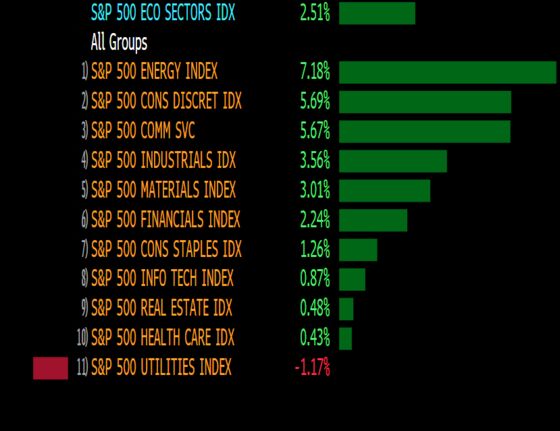 In a sharp turn from the end of 2018, credit markets are seeing a rebound. Tom Essaye, a former Merrill Lynch trader who founded "The Sevens Report" market newsletter, monitors credit through the exchange-traded funds that track the asset class, such as the SPDR Bloomberg Barclays High Yield Bond ETF, ticker JNK. The fund is up more than 5 percent from its December lows and is experiencing its best four-day winning streak since 2016.
"The bounce in credit doesn't alleviate my concerns on this market over the medium/longer term, but it does imply that in the near term we could finally see a decent rally in stocks, one that could take us back towards the upper end of the 2550ish-2720ish trading range," he wrote to clients Tuesday. A return to the high end of that range from Monday's close would entail a near 7 percent gain.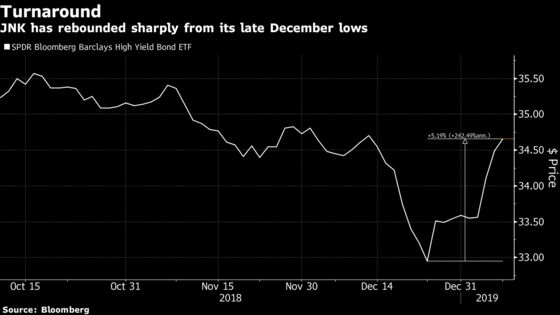 One silver lining of December's market rout was the cheap valuations that came with it. The price-earnings ratio of the Nasdaq 100 Index hit a four-year low below 20 last month and the S&P 500's 12-month forward multiple is not too far from the lowest levels in over five years. At 17.5-times earnings, the benchmark is trading just below the 10-year average.
But even though some investors view these prices with wide eyes, others still see reason for prudence.
"It's true that valuations have come a long way, but for now it's the reason that we would stay cautious about expecting any major upside from here," Karen Ward, chief market strategist for EMEA at JPMorgan Asset Management in London, said on Bloomberg TV.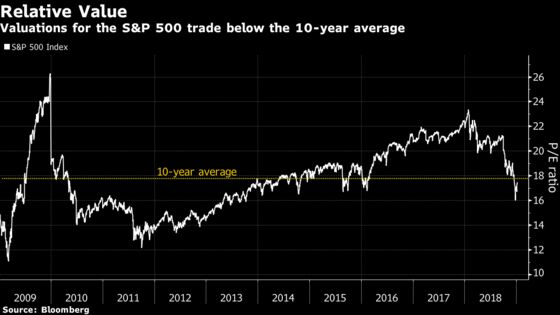 After two weeks of U.S. stock rallies, Mike Wilson, Morgan Stanley's chief U.S. equity strategist, is still worried about further drops in the S&P 500. After Apple cut its revenue forecasts and the sharp decline in a gauge of U.S. manufacturing, the widely followed Wall Street strategist warned more negative news is likely to come. He's not alone.
"There is a bit of danger at this point," Yale University Professor Robert Shiller said on Bloomberg TV. "I'm not bailing out, but I'm thinking that there is a risk of a big decline. Now I'm not forecasting that, but I'm saying it is a risk that we'll see further declines -- substantial further declines."
On the other end of the spectrum, strategists from Bank of America and Citigroup have urged investors to buy the dip.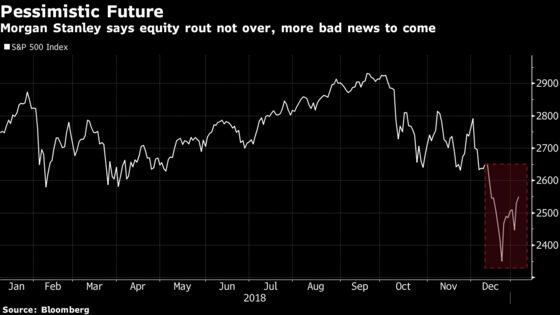 Deteriorating Earnings Guidance
Last week, Apple cut its revenue outlook for the first time in two decades, spurring a drop in U.S. stock indexes as investors look toward earnings season with caution. Delta Air Lines Inc. soon followed suit. Among U.S. companies issuing estimates for the fourth quarter, 46 percent have revised their outlook lower, and there could be more to come, sparking concern that volatility is here to stay.
"A lot of folks are looking forward to earnings as the way of finding a floor in the market decline," said Jay Pestrichelli, co-founder and managing director at ZEGA Financial. Apple cutting forecasts "has a ripple effect, especially when it's a titan like Apple, a huge company that impacts a lot of pieces of the global economy. And when you see that, I think we should probably expect earnings to not be the thing that saves us and pulls us out of this decline."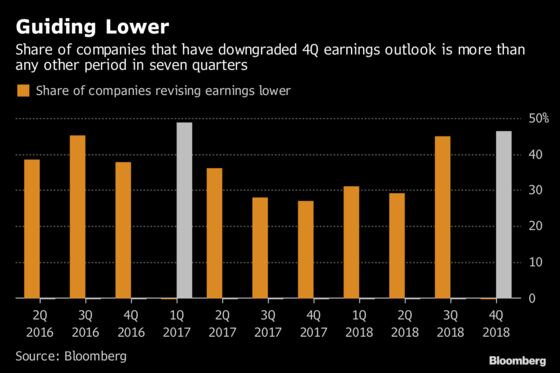 Although it may feel like the worst is over, equities often take some time to form a bottom. Since 1950, the S&P 500 has endured 11 pullbacks of 12 percent or more throughout prolonged bull markets, according to Bank of America. And while 3 1/2 months have gone by since U.S. stocks peaked, the average correction has lasted eight months.
"We'll see more upside follow through over the next few weeks, but I still wonder as we move through the rest of the first quarter, we may go back down and retest the lows, or at least get another big dip before we really find the ultimate bottom for this move," said Matt Maley, equity strategist at Miller Tabak + Co.