Harvard Gains 10% as Endowment Has 'Much Work Ahead,' CEO Says
(Bloomberg) -- Harvard University posted a 10 percent investment gain as the world's largest college endowment is "still in the early stages of a multi-year transition, with much work ahead," the fund's chief executive officer said Friday in a statement.
The return trailed other wealthy schools including the Massachusetts Institute of Technology and Ivy League peer Dartmouth College. While the value of Harvard's fund reached a record $39.2 billion through June 30, the university has been losing ground to rivals as it has struggled over the past decade with poor performance.
Harvard Management Co., which runs the endowment, on Friday reported the results. Unlike previous years, it didn't include an investment letter detailing the performance. The letter will be included in Harvard's financial report due next month.
"Thanks to the exceptional team we have at HMC, we are confident in the direction of the organization and the long-term prospects for the endowment," Narv Narvekar, CEO of Harvard Management, said in Friday's statement.
Harvard had one of the worst returns in fiscal 2017 at 8.1 percent after it wrote down the value of the natural resources portfolio by $1.1 billion to $2.9 billion. Narvekar wrote in an investment report in September 2017 that a few natural resources assets "have significant challenges." The portfolio primarily consists of timberland and agriculture holdings.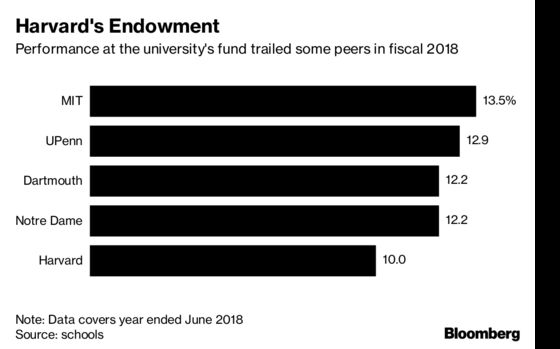 Since Narvekar joined Harvard Management from Columbia University's endowment in December of 2016, he's slashed staff in Boston by almost half to around 130 people and hired outside money managers to oversee assets.
He's also unloaded stakes in private equity funds and cut exposure to real estate, including agreeing this month to sell a portfolio of warehouses to the Blackstone Group for almost $1 billion.
The university remains a formidable fundraiser, collecting a record $9.6 billion in a five-year campaign that ended in June. Such benefactors helped bail out Harvard's poor endowment performance. In the decade through June 30, Harvard returned 4.5 percent on average, according to data compiled by Bloomberg. In the same period, 52 endowments with more than $1 billion had a median 5.9 percent return, according to preliminary data by Cambridge Associates.
Two other Ivy League schools have reported fiscal 2018 results. The University of Pennsylvania gained 12.9 percent on its $13.8 billion fund. Dartmouth had a 12.2 percent gain, and its fund's value reached a record $5.5 billion. Both attributed their performance to strong returns in alternative investments.
The returns compare with a median 8.3 percent gain for 143 endowments of all sizes in the period, according to Cambridge data.