Harley-Davidson Rallies as U.S.-EU Deal Rolls Back Some Tariffs
(Bloomberg) -- Harley-Davidson Inc. rallied Monday after the U.S. and European Union reached a trade truce on steel and aluminum tariffs that would cut costs on products including its motorcycles.
The Milwaukee-based company was among the best-performing stocks worth more than $5 billion in early trading as shares soar as much as 11%. The news is a "big win for Harley-Davidson and our customers, employees and dealers in Europe," Chief Executive Officer Jochen Zeitz said in a statement.
Harley was among a range of consumer-products companies that gained in early trading as the deal cut fees on items ranging from Levi Strauss & Co. jeans to bourbon whiskey. Levi shares rose 1.3% at 9:35 a.m. in New York while Brown-Forman Corp., whose brands include Jack Daniel's, gained 3.4%.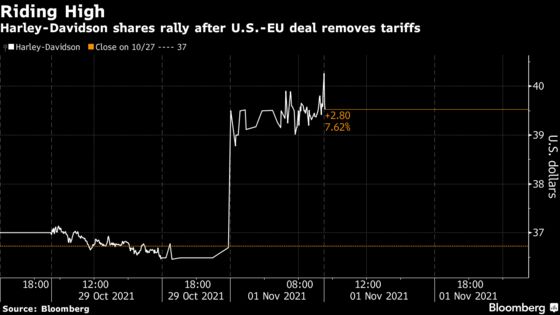 Wedbush analyst James Hardiman said the end of retaliatory tariffs are a "big benefit" for Harley and is a "very positive development" into 2022 and beyond. JPMorgan analyst Andrea Teixeira said the relief comes at a good time for Brown-Forman investors, given inflationary pressures and snarled supply chains that are boosting costs for ingredients and labor.
The deal provided a boost to steelmakers including United States Steel Corp. and Steel Dynamics Inc. as well as companies such as planemaker Boeing Co. U.S. Commerce Secretary Gina Raimondo said over the weekend that the rollback of tariffs would help ease the impact of supply chain issues. 
Brown-Forman said in a statement it "looks forward to the return of a level playing field" with the EU and that "we hope a similar outcome can soon be achieved between the U.S. and the U.K."