Frugal Billionaire Sells Stake in Wealth Firm He Founded
Peter Hargreaves has sold 550 million pounds ($711 million) of shares in Hargreaves Lansdown Plc, the online investment platform that made him a billionaire.
The sale "is part of a process of long-term financial planning to diversify my assets," 73-year-old Hargreaves said in a statement Friday. "I remain, and will continue to be, a substantial shareholder." The offer was announced after close of trading in London Thursday.
Hargreaves is one of the richest people in the U.K. with a $3.8 billion fortune, according to the Bloomberg Billionaires Index. Before the sale, about 90% of his net worth was tied up in the shares of his company, which was widely criticized last year for supporting disgraced money manager Neil Woodford.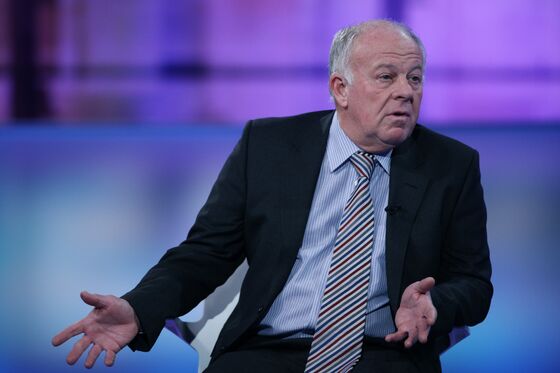 The disposal of a 7% stake marks a shift for the Lancashire-born businessman who hasn't sold stock since the firm's 2007 listing. He's long been known for his frugal and low-key lifestyle, once asking a New York-based journalist to call him back because he didn't want to pay the long-distance charge. He had a $4 billion fortune at the time.
His profile has risen in recent years after he donated more than $4 million to the Brexit campaign. Hargreaves announced last month he would donate 100 million pounds worth of his shares to set up a foundation, one of the largest charitable acts in British history.
Hargreaves now owns 24.3% of the company, according to the statement. The holding was worth about 1.9 billion pounds early Friday when the shares fell as much as 5.2% in London.
Hargreaves Lansdown has benefited as more private investors seek to manage their own money, with its stock climbing more than 60% in the past five years. Still, its shares lagged behind peers in the second half of 2019, after the freezing of Woodford's fund rocked the industry. The firm had included the stock picker on its favorite fund list even as other platforms dropped him.
Hargreaves co-founded the company in 1981 alongside Stephen Lansdown. They started out providing information to clients on unit trusts and tax planning, and then went public in 2007. It's since grown into a FTSE 100 company and is one of the largest fund supermarkets in the U.K.
Hargreaves has already started diversifying. He provided 25 million pounds of seed capital to help form money manager Blue Whale Capital in 2017. Blue Whale has since grown its assets to 260 million pounds, according to a company spokesman.
The share sale was conducted via an accelerated book build and demand saw Hargreaves increase the amount he sold to 550 million pounds from an initial 500 million pounds, according to Friday's statement. Barclays Plc and Numis Securities Ltd. managed the sale, while Evercore Partners International acted as adviser.
It's not clear how Hargreaves intends to spend his proceeds but the keen gardener is unlikely to be eyeing up trophy assets like super yachts or planes.
"We live very modestly," he said in a 2018 interview. "I can't see the point in going out and spending money on things you don't want. I could afford anything. I don't want anything. I don't want to go out socializing every night. I'm quite happy to sit at home with my family."