China's Liquor Stocks Are Sliding
(Bloomberg) -- Chinese liquor makers, one of last year's best bets and beloved by analysts, are feeling the effects of the wrong kind of bubble.
Last year's surge has given way to a slide, amid rumors of tax changes and reports of a government plan to curb alcohol consumption. The wider trade tensions and margin calls that have turned China's stock market into one of the world's worst performers this year haven't helped.
The world's most valuable distiller, baijiu-maker Kweichow Moutai Co., saw its share price more than double in 2017 amid blistering demand for its fiery liquor. On Tuesday it tumbled the most since China's stock bubble burst in 2015, and around $45 billion has been wiped off its value since a June peak. Moutai has the second-largest weighting on the CSI 300 Index of large cap companies, so its decline has added to the strain on China's market.
"There's a bubble in the sector," said Lv Changshun, a fund manager at Beijing Dajun Zhimeng Investment Management Co. "After the stellar performance last year, baijiu stocks, especially Moutai, have become overvalued." Elsewhere, spirit-maker Luzhou Laojiao Co. is down 40% this year after surging 100 percent in 2017, while Wuliangye Yibin Co. has fallen 31 percent.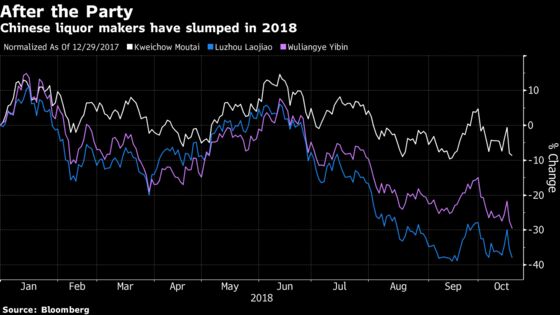 Analysts have maintained their bullish ratings on Kweichow Moutai, even as the sell-off steepened, with all 35 tracked by Bloomberg having a buy recommendation on the stock.
"The profit growth for top baijiu names was remarkable last year, so investors priced in a lot of optimism," said Lv. "This year investors have realized that the high earnings growth would not be sustainable, so the sector faces a re-rating process and is unlikely to perform as well."
Liquor makers extended their declines Thursday as consumer shares led the CSI 300 index lower, with Kweichow Moutai falling as much as 4.5 percent.
(An earlier version of this story corrected year of share price gain in fourth paragraph.)