Haftar Is Prepared to Allow Libya Oil Restart, U.S. Embassy Says
(Bloomberg) -- A military commander seeking to oust Libya's United Nations-backed government will let the country's oil industry re-open after an eight-month blockade that's all but halted exports, according to U.S. diplomats.
Khalifa Haftar gave his "personal commitment" to "allow the full reopening of the energy sector" by Sept. 12, the U.S. embassy in the capital Tripoli said in a statement the same day. He made the pledge in an exchange of letters between his self-styled Libyan National Army and the embassy.
By Sunday afternoon, however, Haftar and the LNA still hadn't made a public statement about ending their blockade or allowing oil shipments to resume. A restoration of oil exports could come by next weekend, a person with knowledge of the situation said on Sunday, asking not to be identified because they're not authorized to speak to media.
Libya, which holds Africa's largest crude reserves, pumped 1.2 million barrels a day last year. However, output plummeted to 80,000 barrels a day after Haftar, who controls most of eastern Libya and is trying to unseat the administration of Prime Minister Fayez al-Sarraj based in the western city of Tripoli, halted operations at fields and ports in his territories in mid-January.
Any increase in production could unnerve the Organization of Petroleum Exporting Countries and its allies. The group, known as OPEC+ and led by Saudi Arabia and Russia, is to hold a virtual meeting on Thursday to decide whether to continue easing the output cuts they agreed on in April at the height of the coronavirus pandemic.
Oil prices have since rallied to around $40 a barrel, but are still down 40% this year amid concern about an acceleration of infections in some countries. Libya has been exempt from the cartel's cuts because of its strife.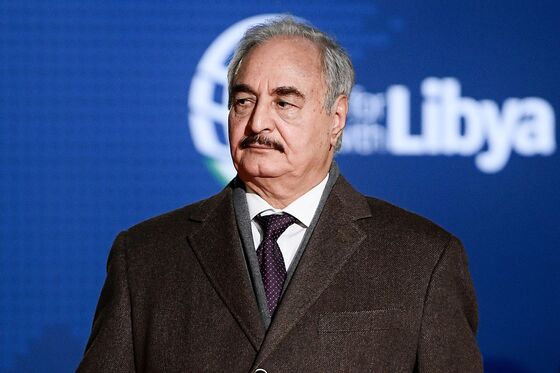 Haftar's forces have repeatedly said that the closures will end only when there's an agreement to distribute oil revenues more evenly between western and eastern Libya. The blockade has cost the North African nation billions of dollars in lost revenues.
The U.S. "is encouraged by an apparent sovereign Libyan agreement to enable the National Oil Corp. to resume its vital and apolitical work," the embassy said in the statement.
The NOC, with headquarters in Tripoli, had no immediate comment on Sunday. An LNA spokesman also had no immediate comment.
At least two oil fields and two ports remained closed on Sunday and had not received instructions from the NOC to resume operations, people with knowledge of the situation said. The operator at the country's biggest oil field, Sharara, told workers there to prepare to restart production, one of the people said.
The tanker Minerva Eleonora, which was supposed to load 630,000 barrels of crude at Es Sider port, remained at the terminal after the cargo was canceled last week, according to Bloomberg tanker tracking data and a person with knowledge of the situation. The ship, chartered by Hess Corp., was to have loaded a one-time shipment approved by Haftar.
Libya has been wracked by lawlessness and war since a 2011 revolt that overthrew former dictator Muammar al-Qaddafi. The conflict has drawn in other nations including Turkey, which supports Sarraj. Russia, the United Arab Emirates and Egypt back Haftar.
Oil and gas facilities have been at the heart of the conflict, with different groups closing or sabotaging them to press political and economic demands.
The shutdown of energy infrastructure has also deprived power stations of fuel and led to widespread blackouts. The electricity crisis has sparked protests in Tripoli and in Benghazi, the biggest city in the east.