Gundlach Warns Market Moves Bad for Risk-Parity Hedge Funds
(Bloomberg) -- The slump in U.S. stocks and muted rebound in Treasuries spells bad news for risk parity funds, according to Jeffrey Gundlach, chief investment officer of DoubleLine Capital.
A 6.5 percent decline in the S&P 500 Index from its September high, coupled with a less than four basis point drop in the benchmark 10-year Treasury yield was bad for the popular hedge fund strategy, the bond manager said in a Twitter post after U.S. markets closed Tuesday.
Multi-asset risk-parity funds, first popularized by Ray Dalio, weigh their exposures according to measures of volatility and aim to hold an equal amount of risk among investment classes. Some strategists suspected they were at the core of the equity market sell-off earlier this month.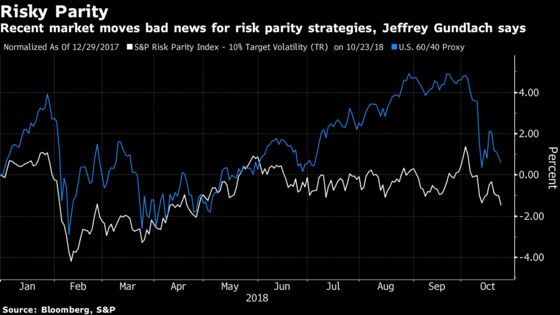 The S&P Multi-Asset Risk Parity Index, one measure of the strategy, has underperformed a traditional 60/40 equity/bonds allocation this year, according Bloomberg calculations. The gauge has fallen 1.5 percent versus a 0.6 percent rise in a basket comprised of the S&P 500 Index and the Bloomberg Barclays U.S. Treasury Total Return Index, the data show.