Jeffrey Gundlach's 2018 Market Calls, One Year Later
(Bloomberg) -- Jeffrey Gundlach, DoubleLine Capital's chief investment officer, hosts his annual "Just Markets" webcast after markets on Tuesday, offering his outlook for the year ahead. He had a good 2018, with many of the predictions he made at the start of the year coming true. Here's a look back at those calls and how they played out through the end of December.
Call: Expect a run-up early in 2018, but an eventual reversal that would leave the market down for the year.
Outcome: The S&P 500 Index peaked on Sept. 20 and finished with a loss of 4.4 percent, including dividends.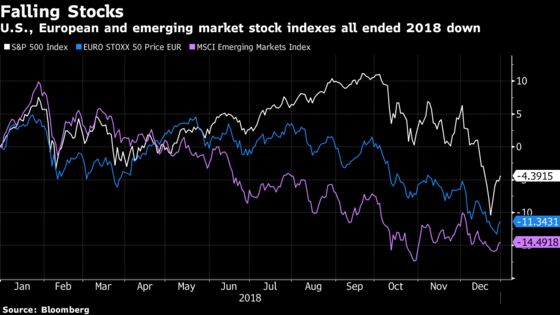 Call: Not a great time for traders to be buying, but long-term investors may benefit from attractive valuations relative to the U.S.
Outcome: The MSCI EM Index did worse than the S&P 500, dropping 14 percent on a total-return basis; price-earnings ratios still favor emerging markets.
Call: A value trap.
Outcome: The Euro Stoxx 50 Index lost 16 percent after dividends in dollar terms.
Call: Two-year notes could exceed 2.5 percent, but they're "actually a pretty no-brainer investment" because they offer positive returns if held to maturity, when other assets may be reasonably priced.
Outcome: Yields stayed above 2.5 percent from June 11 to Dec. 28 and short-term bond funds generated positive returns.
Call: If rates on the 10-year surpass 3 percent, "then it's truly, truly game over for the ancient bond bull market."
Outcome: Rates closed above 3 percent on Sept. 18 and climbed to 3.24 percent Nov. 8, but then crept back down as investors seeking a haven pushed up bond prices.
Call: It's a bad time to buy corporate bonds because "almost all the juice is out of the orange."
Outcome: The Bloomberg Barclays US Corporate Bond Index lost 2.5 percent.
Call: A short-term rally, but the big move will be to the downside.
Outcome: The dollar spot index hit a year-low on Feb. 15 before climbing to a 12-month high on Nov. 12. It's still above the Jan. 9, 2018, level.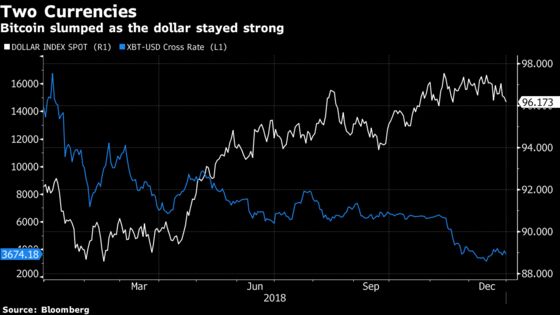 Call: If you shorted the cryptocurrency on Dec. 13, 2017, you would end up in the money over the long term.
Outcome: It's been mostly downhill since the Dec. 18, 2017, high of $18,674.
Call: They're at a point similar to the 1970s, when they were "a screaming buy."
Outcome: The Bloomberg Commodity Index fell 13 percent.
Call: Indicators such as the New York Fed Underlying Inflation Gauge suggest rising core inflation.
Outcome: Core inflation rose to 2.2 percent in November from 1.8 percent at the end of 2017.
Call: No signs of a recession among leading indicators.
Outcome: While some warning signals are flashing now, the economy is still growing.