Japan Traders Left in Dark as Profit Guidance Marred by Virus
(Bloomberg) -- Japanese equity investors may be thrown into the dark in the upcoming earnings season, as they face the risk of corporate guidance not folding in the impact from the global coronavirus outbreak, according to strategists from Mitsubishi UFJ Morgan Stanley Securities Co.
Companies will start reporting their results in April, and many of them will release their numbers for the fiscal year ending in March. But with the pandemic shrouding prospects for the global economy and with a recession creeping into view, firms may not be able to properly gauge the impact, let alone give any kind of forecast for the next fiscal year.
That's why investors should refrain from drawing conclusions solely from corporate projections, wrote Mitsubishi UFJ-MS strategists including Ukyo Haraguchi in a note last week. "Program-trading strategies built around pre-set guidance targets could mistakenly judge guidance positively even if the figures do not take into account coronavirus impact," they added.
While Japanese shares have tumbled on fears over the impact of the coronavirus, analysts' projections have barely budged.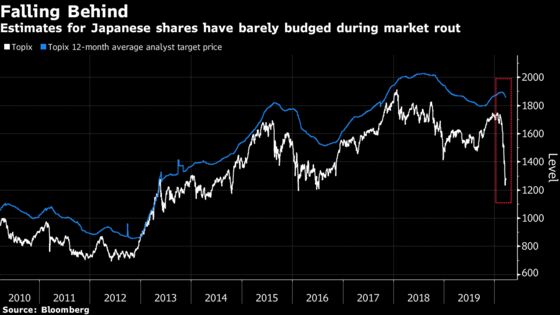 Since many firms won't be able to give reliable forecasts, one way to maneuver through the earnings season is to buy shares of the most solid companies, according to Naoki Fujiwara, chief fund manager at Shinkin Asset Management Co.
"It's going to be tough," he said. "One option would be to compare the balance sheets, see which company has no risk of going out of business, and check if the shares are oversold."
With the peak of the outbreak nowhere in sight, authorities are taking action to make sure shareholders are given the right disclosure ahead of next month. Japan Exchange Group Inc., the operator behind the Tokyo Stock Exchange, asked listed companies to disclose risk information related to the virus before filing their securities reports and to submit any additional filings about its impact.
"I think that companies will be diligent in releasing risk info," said Travis Lundy, a special-situations analyst who publishes on Smartkarma. "But I think that companies may conclude with all this risk disclosure that they simply don't know enough to guide earnings."
Outside of Japan, the Australian Securities & Investments Commission said last month it checked with market participants their business-continuity plans, and that it was monitoring disclosures from listed companies resulting from the changing market environment.