Brazil's Not-So-Bad Budget Is Starting to Win Over Investors
(Bloomberg) -- Brazil's economy minister has been telling investors they've got it wrong for months. 
In public speeches and private meetings, Paulo Guedes is constantly seeking to rebuff concern about Brazil's fiscal outlook. Recent data and forecasts show the best budget numbers in years, even as social outlays increase to lessen the pandemic's burden on Brazil's poorest citizens. The pessimism that's made its bonds, currency and stock market among the world's worst performers this year is way overdone, Guedes says.
"Ours will be the first government that is getting out spending less than when we came in," Guedes said Dec. 7 during an online event with investors. "These are hard facts. You hear a lot of noise on fiscal sustainability in Brazil, on how fiscal policy is loose, but I can assure you that this is noise."
There are signs some of the pessimism has started to abate, even as the currency remains stuck near an eight-month low. The benchmark stock index has surged 6.3% since hitting a 13-month low Dec. 1. The spread on overseas bonds has tumbled almost 40 basis points in the past couple of weeks.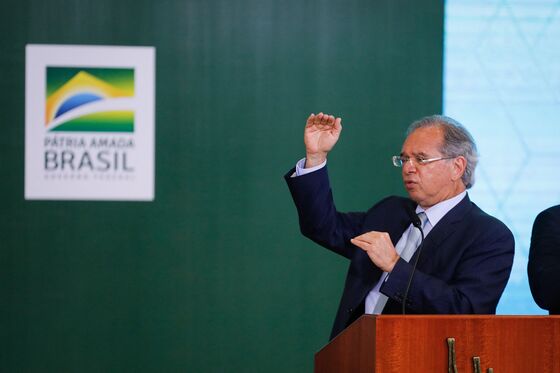 Guedes is keen to tout forecasts showing Brazil is on track to post its smallest budget deficit in seven years, gross debt levels are falling, and government spending is poised to be the lowest as a percentage of the economy since 2014. In an era of spectacular deficits in developed countries like the U.S. and shortfalls in peers like Chile and Colombia that are predicted to exceed Brazil's, the country looks like a model of responsibility.
"Brazilian fiscal numbers are massively outperforming expectations," Gustavo Medeiros, the head of research at Ashmore Group in London. While he acknowledges the budget will need to be shored up in coming years, he thinks that's inevitable and is bullish on local fixed-rate government bonds and corporate notes.
But for skeptics, the blowout in social spending tied to the pandemic hasn't been dialed back enough, and they're worried there will only be more pressure to bust the budget to come as President Jair Bolsonaro gears up for his re-election bid. They point to inflation that's accelerated far faster in Brazil than in other developing nations, and a history of aggressive spending during recessions that isn't always curtailed in later years -- as happened after the 2008 financial crisis.
All that pessimism has been incredibly painful for Brazil's markets, even considering the recent recovery. The Ibovespa is the second-worst performer in the world this year, with only Hong Kong's benchmark faring worse. The real is heading to its fifth straight year of decline. And spreads on Brazil's overseas bonds have soared 10 times the average for emerging markets.
"When you start with fiscal populism, the price to pay is very high," said Luis Stuhlberger, the founding partner of Verde Asset Management, whose flagship fund has returned more than 18,000% in local-currency terms since 1997. Brazilian assets are pricing in a "lot of bad things," he said at an event last month.
Other investors are finding reasons to be upbeat and say they're seeing opportunities to buy while budget numbers are getting better. Brazil's primary deficit --which excludes debt payments -- will fall to 0.4% of gross domestic product by the end of 2022, the same level as 2014, according to the Economy Ministry. Government spending will also return to the same level as 2014: 18% of GDP. Gross debt will drop to 80.6% of GDP in 2021, from 88.8% this year. 
Both JPMorgan Chase & Co. and HSBC Holdings Plc have called a bottom for the stock market after valuations reached the lowest in a decade. The iShares MSCI Brazil ETF recorded inflows exceeding $280 million last week, the most in two years.
The biggest sore spot for traders are the maneuvers the government went through to blow through its spending cap. When the move was announced in October, markets tanked. Several members of Guedes's team left, and investors speculated he too would quit. Instead, the minister was dismissive of those who exited, saying they were "good young people" but unwilling to open their eyes to the reality of how Brazil's poorest suffer and what it would take to elevate their living standards.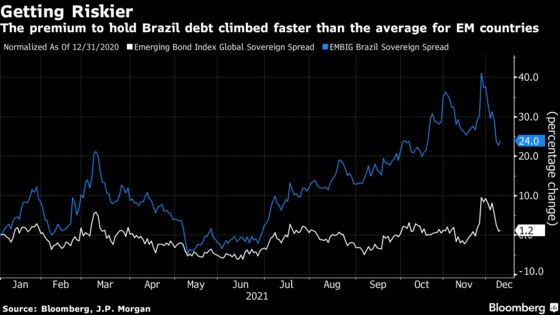 "It seems reasonable to do a little worse fiscally but better politically and socially," the minister said at an event in Brasilia a few weeks back, addressing criticism about the government busting through its spending cap. "I hope markets can understand it. It's a bit childish to say 'the cap is a symbol, it's either the cap or death.'"
The presidential vote, which will likely pit Bolsonaro against the left-wing former President Luiz Inacio Lula da Silva, is a big driver of concern among investors who worry it could compel the incumbent to spend wildly or, if he loses, usher in a free-spending government.
Uncertainty is "haunting the country" amid a lack of clarity about the next president's fiscal framework, the Economy Ministry said in a response to questions from Bloomberg News. The central bank said last week that doubts about the outlook for spending have the potential to increase inflation expectations.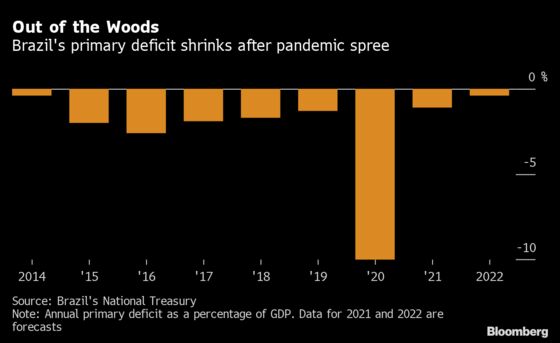 But to Trang Nguyen, an emerging markets strategist at JPMorgan Securities in New York, Brazil assets already reflect the fiscal risks after the beatdown they've taken this year. She's added to holdings of the country's overseas bonds, saying the rout went too far.
"The selloff in spreads looks overdone and probably more than compensates for the rising fiscal and political risk," she said in an interview.
Daniel Shaykevich, co-head of emerging-market and sovereign debt at Vanguard Group Inc., said investors have been concerned about the outlook for government spending given the political volatility. But at the end of the day, the current outlays are reasonable and the fact that Brazil doesn't need to sell dollar-debt next year is comforting.
"Brazil remains extremely strong in external metrics," he said in an interview. "The fiscal risks are being priced in the local market and investors are being compensated for those risks."