Griffin, Loeb Donations Blasted by NYC Mayor Candidate Stringer
(Bloomberg) -- Scott Stringer, the New York City Comptroller who is running for mayor, criticized hedge fund managers Ken Griffin and Dan Loeb for contributing to political committees that support his opponents in the race, accusing the billionaire money managers of trying to privatize public education.
Griffin, the founder of Citadel, and Loeb, founder of Third Point LLC, each gave $500,000 to independent political action committees known as super PACs that support Eric Adams and Andrew Yang, two of Stringer's opponents in the upcoming June 22 Democratic primary for mayor. Griffin and Loeb have donated millions in campaign contributions to expand charter schools and to the schools themselves, while Stringer is backed by New York City's main teachers' union.
"They're not satisfied with just owning one candidate — they want two," Stringer said. "And the one candidate that they don't own is me. And I'm going to have the resources and the support to take them on."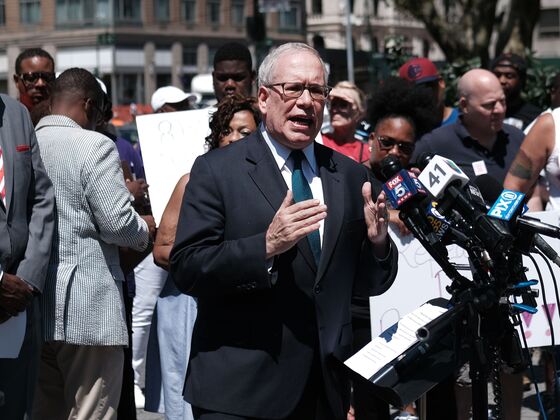 Loeb has clashed for years with Randi Weingarten, former head of the city union, the United Federation of Teachers, who's now the president of the national American Federation of Teachers. Loeb supports charter schools, which are privately run but publicly funded. Charter supporters say the schools offer a better alternative to struggling public schools, especially for poor students.
But charter schools are also usually not unionized. Unions say the schools don't enroll students from the poorest families or those with special needs, cherry picking students who are likely to be easier to teach while draining funds from public coffers.
Yang spokesperson Eric Soufer said Stringer's attack of the campaign for receiving the help of billionaires with a pro-charter school agenda is a sign of desperation. "He's made a career of taking money from anyone and everyone, including Wilbur Ross and other Republicans," Soufer said.
Adams spokesperson Evan Theis said, "The campaign has nothing to do with those committees and it would be inappropriate for us to comment on them." Super PACs are permitted to operate as long as they do not act in coordination with official political campaigns.
Loeb is a primary backer of the Success Academy Charter Schools in New York, and Griffin, whose charity donated $10 million to Success Academy in 2018, has long been an opponent of the teachers union in Chicago, where Citadel is headquartered.
For this election, Loeb, Griffin, and fellow hedge fund titans Stanley Druckenmiller and Paul Tudor Jones each gave $500,000 to an Adams-supporting Super PAC, Strong Leadership NYC Inc., set up by Jenny Sedlis, executive director of StudentsFirstNY, a charter school backer. Loeb and Griffin each also gave $500,000 to Yang via another private fundraising group, Comeback PAC.
Meanwhile, the AFT and UFT have set up their own Super PAC for Stringer, called NY4Kids Inc., seeding it with $1.5 million.
Representatives for Loeb and Griffin didn't immediately respond to a request for comment.