Gretzky, Nash Join Joe Tsai as Vegas Lacrosse Owners
(Bloomberg) -- Hockey legend Wayne Gretzky, Brooklyn Nets head coach Steve Nash and golfer Dustin Johnson are joining billionaire Joe Tsai as co-owners of the National Lacrosse League's new Las Vegas team.
The NLL's 15th team will play next year at MGM Resorts International's Michelob Ultra Arena, the home of the WNBA's Las Vegas Aces, located inside the Mandalay Bay Resort and Casino.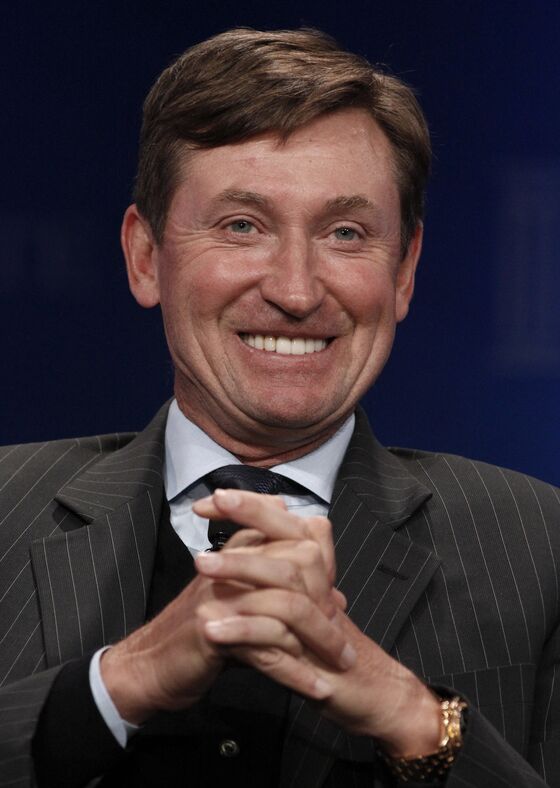 The lacrosse team will join a fast-growing hub of professional sports teams in Las Vegas. The city added the NHL's Vegas Golden Knights in 2017 and the Aces in 2018 before luring the NFL's Raiders to Sin City in 2020.
Gretzky's connection to the team could help draw in hockey supporters, a fan base that lacrosse often taps. Tsai said he courted Nash for the partnership and that Gretzky floated the idea to bring Johnson, his son-in-law, into the fold.
"Having that crossover from lacrosse to hockey is very beneficial for us in terms of outreach for the fans," Tsai said.
The team's name, logo and colors will be unveiled at a later date, but fans can enter a "name the team" competition with the chance to win season tickets and merchandise.
"Ownership is so vital to the success of any organization in any sport," Gretzky said in an interview. He said he was looking forward to working with Tsai to "help try to make an exciting sport more exciting for this town."
The Vegas team, which plays an indoor version of the game known as box lacrosse, is part of a growing sports portfolio for Tsai. He's also an investor in the Premier Lacrosse League, alongside the likes of New England Patriots owner Robert Kraft, and owns the NLL's San Diego franchise. Tsai, who co-founded Alibaba Group Holding Ltd., owns the Nets as well.
"Seventy percent of our fan base is eventgoers, partygoers, party seekers, concertgoers -- and what better place than Las Vegas to attract that kind of audience," NLL Commissioner Nick Sakiewicz said at a press conference that the team streamed on Twitch.
Revenue for the league has grown more than 700% over the last five years, according to Sakiewicz. With the addition of Las Vegas, the NLL will be home to 15 teams in 2022. That's up from nine in 2018.
The ownership group said in a statement that it plans to be "forward-thinking and innovative, embracing best practices in analytics and technology across everything we do -- and all while staying true to the fast-paced and exciting nature of both box lacrosse and the city of Las Vegas."
The Vegas team is part of a two-team expansion, with the Panther City Lacrosse Club due to make its debut this fall in Fort Worth, Texas.