Greenwashers Can't Hide Forever, Top Australian ESG Fund Says
(Bloomberg) -- Perpetual Ltd.'s Nathan Hughes has a message for companies trying to greenwash: You will be caught.
The 34-year-old is the portfolio manager of the A$804 million ($622 million) Perpetual Wholesale Ethical SRI Fund that invests in Australian equities and focuses on engaging with companies on environmental, social and governance goals to help preserve returns. The sustainability practices are just "good business," he says.
"I don't think they can actually do it for too long," Sydney-based Hughes told Bloomberg in a recent phone interview, referring to greenwashing, the practice of companies inaccurately marketing themselves as being environmentally friendly. "I think eventually you get found out."
As part of his fact-finding, Hughes engages with companies in his portfolio on everything from where a firm sources its products to the sustainability of its supply chain. In one case, he worked with a firm on understanding where their products are from and identifying forced labor risks. In another he lobbied a company prior to their annual general meeting about how they pay executives.
Those efforts seem to be working: The fund has returned about 45% over the past year, beating 95% of peers, according to data compiled by Bloomberg. Its top 10 stock holdings currently include personal care and hygiene company Asaleo Care Ltd., financial services company AUB Group Ltd. and packaging products maker Orora Ltd., according to its March-quarter update.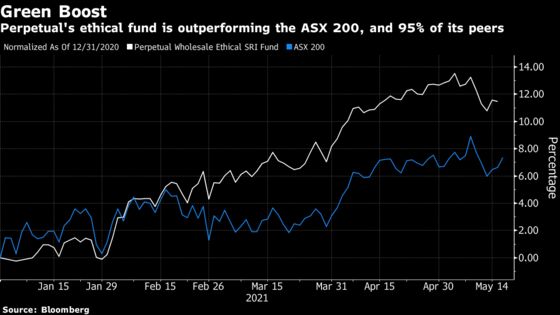 The fund excludes investments in firms that derive more than 5% of their revenue from activities including alcohol, gaming and fossil fuels. Companies with interests in tobacco and weapons have a 0% threshold. An additional screen looks at socially responsible investing elements like environmental risk management, use of renewables and supply chain risks.
The demand for sustainable investments in Australia has been growing alongside a global ESG push. Estimated first-quarter flows into sustainable funds totaled A$1.5 billion, the second highest on record, according to Morningstar Inc.
Australia & New Zealand Banking Group Ltd. and National Australia Bank Ltd. are the fund's top holdings because they have undergone significant changes since the Royal Commission that unveiled decades of wrongdoing at the nation's lenders, and were too cheap to ignore after slumping last year, Hughes said. The fund removed Westpac Banking Corp. from the portfolio after the bank breached anti-money laundering laws.
For Hughes' next target, he - along with a team that includes two responsible investment analysts - will focus on holding companies accountable to achieving net-zero plans. That includes asking management teams tough questions like how they will reduce emissions targets and whether those targets will be tied to compensation.
"I think it's great to put out a net-zero plan for 2050, but the reality is the management team and possibly myself won't be around in 30 years, so it's important that there's near-term targets that are meaningful," he said.