Greek Stocks Are Having Their Best Year in Two Decades 
(Bloomberg) -- Want the lowdown on European markets? In your inbox before the open, every day. Sign up here.
The strongest start to a year for Greek stocks in two decades has bears and short-sellers scrambling.
The benchmark index extended an advance since the end of December to 15 percent, the biggest gain since 1999. That's helped unwind a brutal selloff from a two-year low and bid up bank valuations, which collapsed to less than half of their book value in January.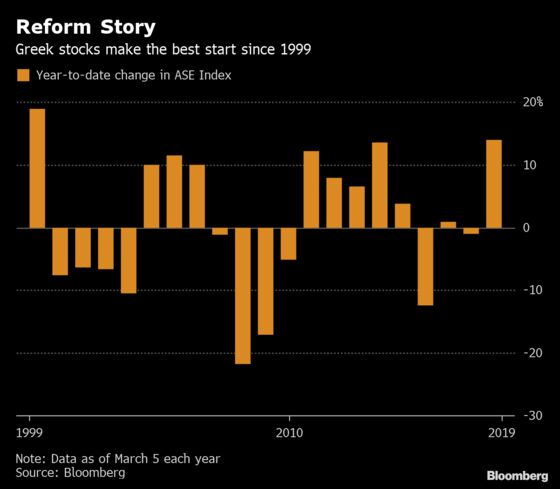 The rally fits the economic context. Greece is on track to clock its fastest pace of growth since 2007 and authorities are moving ahead with plans to offload bad debt on bank balance sheets that for years have crippled a recovery. Speculation is also growing that snap elections could usher the opposition New Democracy to power as soon as May.
"We have been positive on Greece for a long time," said Fabio Balboni, European economist at HSBC Securities Ltd. in London, who sees little risk of policy makers veering off their reformist track and says the nation's large cash buffer means financing needs are effectively taken care of until 2022, or even 2023. "There's room for the positive performance to continue," he said.
New Democracy is expected by many investors to take a more market-friendly position than the ruling Syriza party and is leading in opinion polls with a margin of about 10 percentage points. Its leader, Kyriakos Mitsotakis, wants to trim Greece's inefficient public sector, slash corporate taxes and fast track big-ticket investment projects that have been held up for years.
That could help lure investment after years of austerity fortified government balance sheets yet killed off domestic demand and business spending. On Tuesday, Greece sold bonds for the second time this year, taking advantage of a buoyant mood in global markets and an upgrade from Moody's Investors Service after it exited its third and final bailout program in August.
Others are less optimistic. Anastasia Levashova, a money manager at Blackfriars Asset Management in London, says the nation's banks potentially need more capital and will struggle to offload non-performing assets and loans that still make up between 25 percent to 58 percent of their books.
"There was a technical rally," she said. "But is it sustainable? Is it cleaned up enough to have sustainable growth of more than 3 percent? No."
Indeed, while the economy has recovered, it's still on track to slow slightly from here. It will expand 1.9 percent this year and 1.8 percent in 2019 after growing 2 percent in 2018, according to the median estimate in a Bloomberg survey of economists. The benchmark stock index edged 0.7 percent higher Wednesday, snapping two days of losses.
Still, a U.S.-based Greek stock exchange-traded fund registered almost $10 million of net inflows last week, the biggest since May 2018, bucking a slowdown in flows across most emerging markets.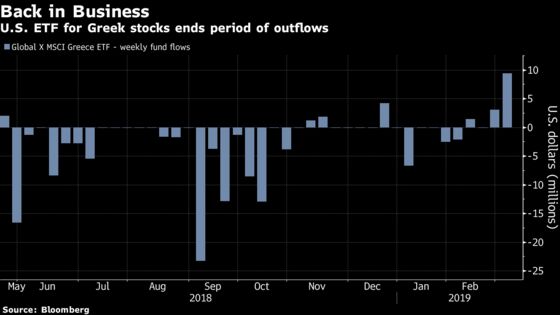 "February has seen much broader participation in terms of investors," including hedge funds and institutional investors, Baldoni said. "This broadening of the investor base leads to a positive cycle as it leads to lower volatility, and that in turn, attracts more investors."