Greek Economy Shrinks in Fourth Quarter
(Bloomberg) -- Want the lowdown on European markets? In your inbox before the open, every day. Sign up here.
Greece's economy contracted for the first time in two years in the fourth quarter of 2018 as consumption and capital formation both shrank.
Gross domestic product shrank 0.1 percent from the third quarter, when it expanded 1 percent, the Hellenic Statistical Authority said on Thursday. For the whole of 2018, the economy grew 1.9 percent.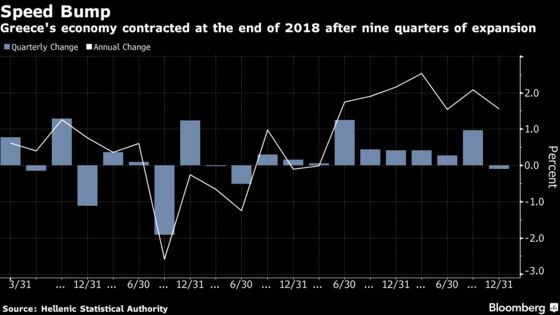 The fourth quarter data damps recent encouragement about the economy. Last year's figure came in below the European Commission's 2018 forecast of 2 percent.
The labor market offers some encouragement as the jobless rate fell 18 percent in December to its lowest since 2011, according to a separate release. Employment grew 2.8 percent last year.
Net trade boosted fourth-quarter GDP, with exports growing 1.8 percent and imports shrinking 7.8 percent.