Greece to Raise $2.9 Billion in Bond Sale With No Bailout Cover
(Bloomberg) -- Greece will sell 2.5 billion euros ($2.9 billion) of bonds for the first time since the end of its international bailout as it tests investor interest in the country's newfound economic independence.
The offer for the 2024 notes will price to yield 3.6 percent, less than an initial target of as much as 3.88 percent, according to a person familiar with the matter, who asked not to be named because they're not authorized to speak about it. Investor orders for the sale topped 10 billion euros, the person said.
Prime Minister Alexis Tsipras is turning his attention to domestic issues after his diplomatic victory in securing the ratification of the Macedonian name deal last week, hoping to create a success-story narrative as he prepares for elections this year.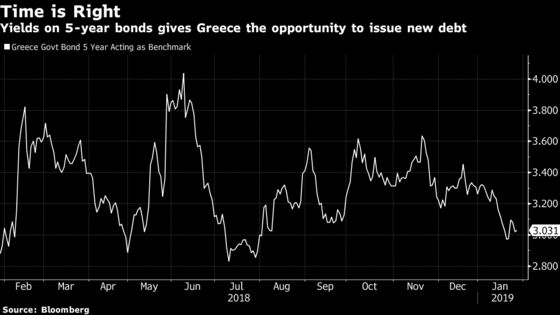 The funds raised could be used to repay bondholders or to buy back International Monetary Fund loans or even as collateral to create a special purpose vehicle to help shrink lenders' bad loans. Greece, which exited its third and final bailout in August, last tapped the bond market in February, issuing a seven-year bond that yielded 3.5 percent.
"On a risk-adjusted basis, Greece is by far the most attractive euro bond right know," said Jaime Costero, a strategist at Banco Bilbao Vizcaya Argentaria SA. "Rating-wise the country could see further improvements and that might continue to improve the profile of the sovereign."
Its current debt sale would come after monitors from the euro area and the IMF concluded a week-long mission to Athens to discuss Greece's post-bailout era progress. Greece's creditors emphasized the need for the country to implement reforms agreed to under the bailout and urgent measures necessary to reduce the mountains of bad loans at banks.
Tsipras risks drawing the ire of those creditors after announcing on Monday that the government will raise the country's minimum wage 11 percent to 650 euros per month, effective February. The European Commission and the IMF had seen labor market reform, including a reduction of the minimum wage, as one of the cornerstone achievements of the country's bailout programs.
Greek government bonds have risen since the start of the year, with the yield on five-year notes dropping last week to their lowest since August. The drop in yields presents Greece with the opportunity to sell bonds, even though the country's bailout program exit left it with a cash buffer that now stands at about 30 billion euro.