Greece to Sell 10-Year Bonds for First Time Since Before Bailout
(Bloomberg) -- Greece marked a milestone in its recovery from a bruising financial crisis after agreeing to sell 2.5 billion euros ($2.8 billion) of 10-year bonds for the first time in nine years.
The syndicated offer for the 2029 notes will price to yield 3.9 percent, less than an initial target of about 4.13 percent, a person familiar with the matter said on Tuesday, asking not to be identified because they're not authorized to speak about it. Investor orders for the sale topped 11.8 billion euros.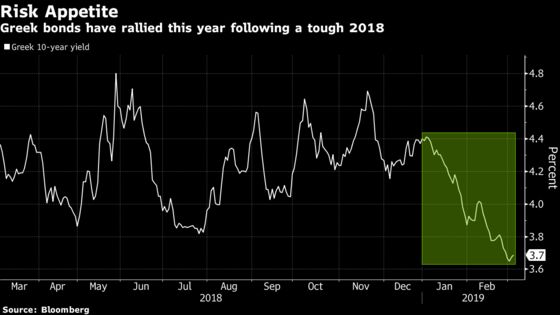 Prime Minister Alexis Tsipras, facing a general election this year that polls show he's set to lose, has pointed to bond sales as proof the country has turned a corner after its economy shrank by a quarter during the crisis.
After ending its bailout program last summer, Greece tapped the market for 2.5 billion euros of five-year bonds in January. The success of that sale, the country's first in almost a year, paved the way for the 10-year issue.
Following the Tuesday sale, Greece will be more than two-thirds of the way to meeting its 2019 goal of raising as much as 7 billion euros this year.
Greek stocks and bonds have rallied this year, with the Athens Stock Exchange up more than 15 percent and the yield on benchmark 10-year government bonds at 3.7 percent. The yield peaked at about 37 percent at the height of the debt crisis in 2012, just before Greece defaulted on its debt to private-sector creditors.
The government last sold 10-year bonds in March 2010, with a 6.25 percent coupon, as the country was in the eye of a storm after a new government revealed that its predecessor had hidden the true size of its budget deficit.
Greece's travails opened a new chapter in the global financial crisis, and two months later it entered the first of three bailouts from the euro area and International Monetary Fund.
For other euro-area countries like Ireland and Portugal that followed Greece in having to take bailouts, issuing 10-year debt was seen as a key staging post in the journey to regaining economic sovereignty.
While it issued similar maturity debt in 2017, that was part of an exchange for bonds that were part of its debt restructuring.
Moody's Investors Service on Friday raised Greece's sovereign credit rating two steps to B1 from B3. Although that's still four levels below investment grade, it gave a fresh boost to the government's bond-selling plan following European Commission criticism that the government was dragging its feet on key economic reforms.