Greece Must Accelerate Reform Implementation, EU Report Says
(Bloomberg) -- The European Commission gave a lukewarm assessment of Greece's progress since exiting its bailout in August.
While Greece will achieve its primary budget surplus target, "progress in other areas is found to be mixed and the authorities will need to accelerate implementation to meet their objectives," the Commission said on Wednesday.
Prime Minister Alexis Tsipras can take solace that the Commission gave a green light to his 2019 budget, which now won't include pension cuts that were to come into effect at the start of next year. The government submitted the final version of budget to parliament later on Wednesday.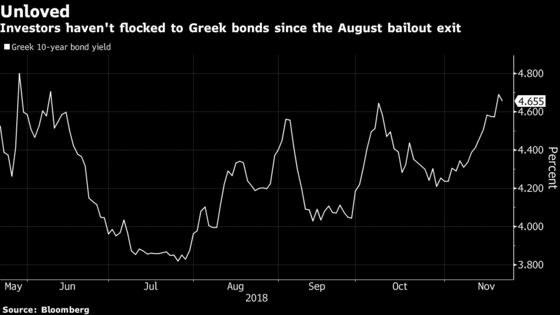 Avoiding the cuts is an important win for Tsipras as it formed the centerpiece of his political strategy ahead of elections next year. It gives him something to hang onto as markets have battered the country's bonds and banks since Greece's bailout exit, making it harder for him to push the narrative of regained investor trust.
The yield on 10-year government bonds hit a five-month high earlier this week, while an index of Greek banks reached its lowest on record. The government, central bank and recapitalization fund are all working on separate plans to get the country's lenders back on track by relieving them of their bad-loan burden.
Measures granting Greece debt relief on its bailout loans, which were agreed as part of package enabling the country to leave its rescue package, will be activated early next year if the country gets a positive assessment of its reform efforts under the second post-bailout review, the Commission said.
The Commission said delays needed to be addressed urgently in clearing public sector arrears to private suppliers, creating a legal framework for tools enabling banks to resolve bad loans, as well as in certain privatizations slated for 2019. These need to be addressed by February, when the second enhanced surveillance report will be released, the Commission said.
The budget sees the country achieving a primary budget surplus of 3.6 percent of gross domestic product next year, when the economy will grow 2.5 percent. The budget trimmed public investment in order to make the numbers add up after including pre-electoral pledges Tsipras made in September.
The government also said it plans to distribute funds amounting to 0.5 percent of GDP in one-time social measures after overshooting its 2018 budget targets. Priority should be given to the clearance of any remaining liabilities arising from court decisions, the European Commission said in its report.