Greece Seeks European Commission's Assent for Bank Plan, Sources Say
(Bloomberg) -- Greece's government submitted to the European Commission a plan to help the country's banks speed up their bad-loan disposals, in a bid to restore confidence in the battered sector, according to two people familiar with the matter.
Greek banks are grappling with 88.6 billion euros ($100 billion) of bad loans, a legacy of the country's financial crisis. That constrains their ability to provide credit to businesses and households and risks crimping growth as the economic recovery looks to be gaining momentum.
The government's proposal is for an Italian-style model whereby debt is unloaded into special purpose vehicles which then sell bonds to investors, according to the people, who asked not to be identified because the details aren't public. The plan also involves potential government guarantees for the safest tranches of debt.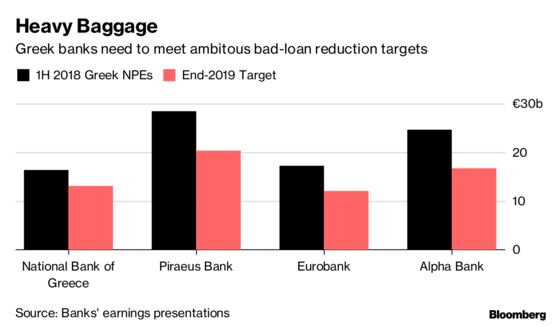 Greek banks have gained 2 percent so far this year after plunging 50 percent in 2018 on doubts they can clean up their balance sheets fast enough. While they cleared a European Central Bank-led stress test last year, they are under pressure from supervisors to cut their bad-debt holdings.
The Greek banks' benchmark index closed 6.2 percent higher at the end of trade compared with a 1.9 percent rise of the Athens Stock Exchange's general index.
Read More: Greek Banks Extend Gain as Greece Said to Seek NPE Plan Approval
The government's proposal is one of several that have been mooted, with the Bank of Greece also working on a plan, under which lenders would transfer deferred tax claims to a special purpose vehicle, which would then sell bonds and use the proceeds to buy bad loans.
In parallel, the government also has another plan to pump as much as 1 billion euros into the banks over the next five years by subsidizing a part of households' mortgage payments.