Greece ETF Surges Amid Talk of a Bank Bailout
(Bloomberg) -- The largest U.S.-listed exchange-traded fund tracking Greek stocks surged to the highest in almost three months Tuesday following reports that the country's central bank wants to help banks chop their bad debt in half.
The $260 million Global X MSCI Greece ETF, ticker GREK, jumped more than 3 percent after Bloomberg reported that Greece's central bank is working on a plan under which banks could eliminate $47 billion of bad debt. Shares of some of the fund's biggest holdings, including Alpha Bank AE, its second-largest position, and Eurobank Ergasias SA, rose substantially.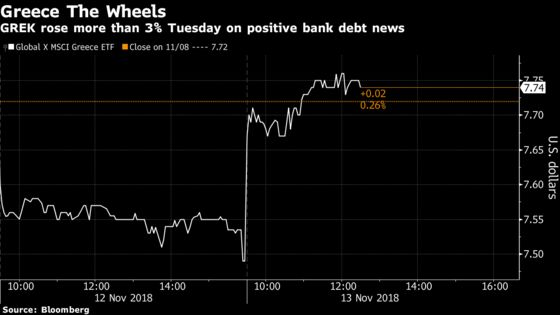 "The PIIGS countries are famously in debt and so any news around their debt load has always been a macro driver of the ETF," said Bloomberg Intelligence Analyst Eric Balchunas, using the acronym for Portugal, Italy, Ireland, Greece and Spain, euro region countries that have gone through recent periods of economic trouble.
Greece ended nearly a decade of bailouts earlier this summer, following a wrenching financial crisis. Since 2010, the country has had to depend on three rescues totaling nearly $350 billion. Meanwhile, its economy has shrunk significantly and joblessness skyrocketed.
Though the Greek economy is growing again, the country is stuck with a sizable debt burden. Under the new proposal, lenders will transfer about half their deferred tax claims to a special purpose vehicle, which would sell bonds and use the proceeds to buy bad loans from the lenders.
GREK is down 25 percent this year and more than 47 percent since its inception in December 2011.
"It's a quasi-bailout, so that's going to be good for the banks, which are an enormous constituent in the GREK index," said Andy Wester, senior investment analyst at Proficio Capital Partners. "But it's interesting to see that they have to bail them out now, when presumably times are good, or at least not in crisis."