Good September, Foreigner Return May Bode Well for Japan Stocks
(Bloomberg) -- Japan's Topix index had an unusually strong September as the long-awaited return of foreign investors may be starting to materialize.
The benchmark gauge climbed 4.7 percent for its best month since October 2017. The performance was notable because September is typically the market's worst month of the year, based on average performance going back to 1990, according to SMBC Nikko strategist Jonathan Allum. The good performance should continue in the fourth quarter, assuming usual seasonality, he said.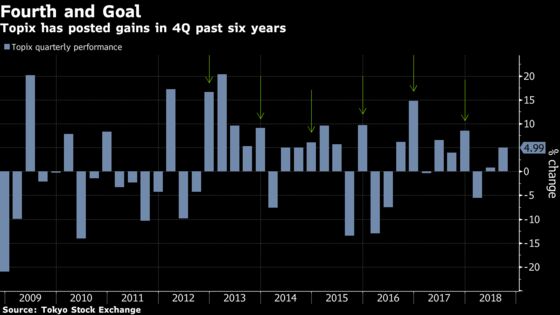 "Such a move might be assisted by a renewal of interest from foreign investors who have been decidedly sniffy about the Japanese market in 2018," Allum wrote in a report dated Friday. "Last week, however, they finally stopped curbing their enthusiasm with the heaviest net buying for well over a year."
Overseas investors bought a net total of 1.47 trillion yen worth of Japanese stocks and related futures in the week ended Sept. 21, the most since November 2014, according to exchange data compiled by Bloomberg. Foreigners bought 277 billion in the cash equity market and 1.19 trillion worth of futures.
While massive selling by foreigners earlier this year made Japan one of the worst performers among developed markets this year, the recent gains may be tempting them back. The Nikkei 225 Stock Average closed just short of a 27-year high Friday, helped by a weakening yen, improving corporate earnings and growing optimism about trade talks.