Goldman Turns Bullish on Yen, Sees Gradual Gains in Next Year
(Bloomberg) -- Goldman Sachs Group Inc., a self-described long-standing bear on the yen, says a turnaround is coming that will see the Japanese currency strengthen in the coming year.
Slowing U.S. growth, higher financial market volatility and the prospect of less stimulus from the Bank of Japan mean the yen should gradually climb to 108 per dollar over the next 12 months, strategists including Zach Pandl, co-head of global FX and emerging-market strategy, wrote in a note Sunday.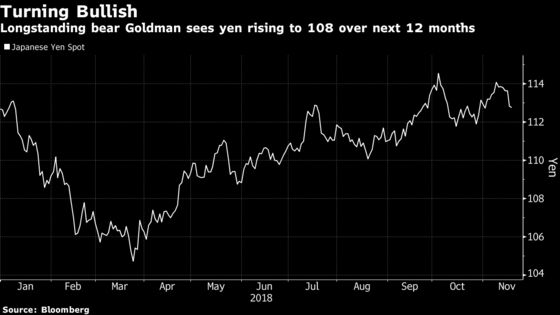 "A more challenging global risk environment argues for a more constructive view in 2019," they wrote. "We have found that lower U.S. growth and higher market volatility tend to benefit the yen, even when the Federal Reserve raises rates faster than expected."
The yen has fallen for much of the last two quarters against the greenback, reaching the year's lowest level of 114.55 at the start of October. However, the currency strengthened last week and traded at 112.75 level on Monday, as the growing anxiety over the outlook for global growth and political risk from the U.K. to Italy spurred demand for haven assets.
Goldman strategists see the yen strengthening to 112, 110 and finally 108 over the next three, six and 12 months respectively, the report said.
While Goldman's economists don't expect major policy changes next year, the Bank of Japan may be hinting at its intention to further downsize monetary easing in the future, according to the note. In comments after a speech Monday, BOJ Governor Haruhiko Kuroda said the central bank was determined to continue its current easing policy.
In addition, trade negotiations between the U.S. and Japan could "increase the White House's focus" on the yen's weakness, given the currency remains on the U.S. Treasury's monitoring list, the strategists wrote.