Goldman Strategist Sees Yen Hitting 60 to Dollar Next Crisis
(Bloomberg) -- With global stocks rallying since the start of the year and recession fears easing in at least some quarters, preparing for the next crisis isn't top-of-mind for many market players just now. That hasn't stopped one Goldman Sachs Group Inc. strategist from game-planning.
"On the macro side, I really think dollar-yen for me is the key pressure point," to consider in the next downturn, Bernhard Rzymelka, Goldman's head of rates-market strategies Europe, said at a conference in Sydney Wednesday. "I keep asking people where do you think that's going to go if the Fed cuts to zero" given what happened the last time the Federal Reserve applied extraordinary stimulus, he said, predicting next time it hits a record.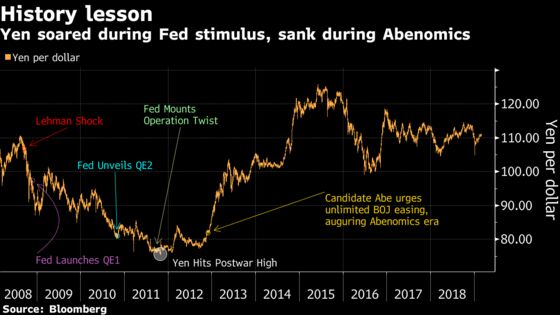 The yen strengthened powerfully in the years following what's known in Japan as the "Lehman shock" of fall 2008, reaching a postwar high of 75.35 per dollar in October 2011 after the Fed slashed rates, implemented quantitative easing and pulled down longer-term U.S. yields.
"This time we are going to go to 60" yen per dollar, Rzymelka said. It was at 110.79 as of 9:34 a.m. in London. "There is humongous leverage that's been built up in the Japanese financial system towards the dollar."
The Bank for International Settlements has been among those to highlight the risks of Japanese banks having accumulated large dollar assets that rely on market-based funding -- as the country's lenders don't have enough deposits in greenbacks to fund those overseas loans. The mismatch amounted to hundreds of billions of dollars by the end of 2016, the BIS said in a report released in June 2017.
Some Japanese banks, pushed by low returns at home, also have large holdings of overseas bonds. Japan Post Bank Co. and Norinchukin Bank are among those that accumulated hundreds of billions of dollars of such assets, according to data compiled by Michael Makdad, a Morningstar Inc. analyst in Tokyo.
Japanese authorities have cited solid capital levels of their nation's financial institutions. Rzymelka's take suggests that may change in a time of crisis should the yen soar -- reducing the value of overseas assets.
"If the Fed gets cutting and threatening QE, there's much more downside and much more funding stress built up in the Japanese system than people are aware of," he said.