Goldman Sachs Stock May Languish as 1MDB Questions Remain
There's probably little Goldman can say to soothe investor fears that a full-blown investigation with fines is possible, Keefe, Bruyette & Woods analyst Brian Kleinhanzl wrote in a note. Recent developments confirm that concerns about the scandal "are more than just noise," he said. The potential financial impact and reputational damage are "nearly impossible to quantify at this point in time," while the $600 million in fees the bank earned from work completed for 1MDB "is certainly at risk."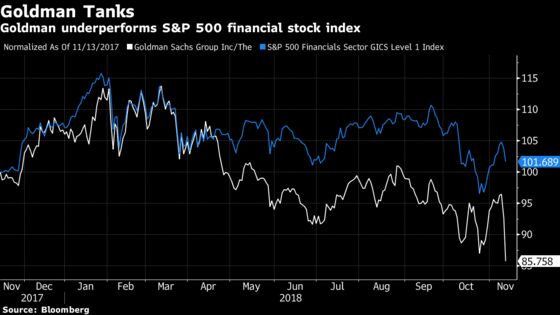 The stock valuation may stay "depressed" until Goldman reveals more information; "the ultimate question is who knew what and when regarding 1MDB and that question remains open ended for now." Goldman shares were down 0.5 percent in pre-market trading at 8:25 a.m. New York time.
Bernstein analyst Christian Bolu estimates Goldman may see a "financial hit" of $600 million to $2 billion from the 1MDB scandal, which would be "meaningful," but "ultimately manageable for Goldman and well below" the $7 billion of lost market cap in the past two days. Bolu flagged longer-term questions including control failures and how much they might cost to remedy, along with the"future appetite to conduct business in emerging markets."
Bolu is less worried about some other investor concerns, including regulatory sanctions in addition to fines, such as a "Wells Fargo style clampdown on growth." He isn't worried about a pause on Goldman's share buyback, either, as it has ample capital flexibility, and is staying "bullish on the fundamentals," particularly as Goldman's new management team aims for faster-growing verticals.