Goldman Sees This Year's Volatility Spike Carrying Over to 2019
(Bloomberg) -- Love it or hate it, volatility has come roaring back into the U.S. equity market. And it's likely to persist in the year ahead, according to Goldman Sachs.
Volatility has more than doubled this year from near historic lows in major exchange-traded funds tracking U.S. equity indexes and sectors, bringing it closer to long-term averages, Goldman derivative strategists Katherine Fogertey and John Marshall wrote in a note. Overall, single-stock options prices imply a continuation of those levels in 2019, which are "not extreme by any means," they wrote.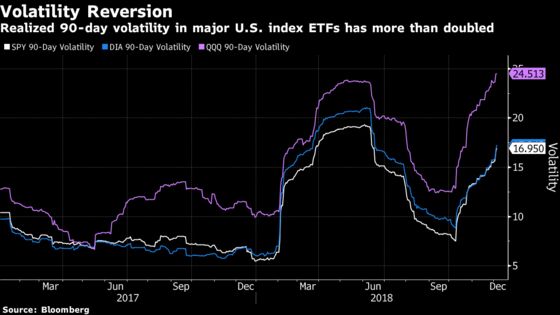 The relative calm that had characterized the stock market for five years was broken as everything from North Korean nuclear threats to the U.S.-China trade war and concerns that corporate earnings growth has peaked whipsawed investors. The S&P 500 Index, in the throes of its second correction since February, has posted peak-to-trough declines exceeding 6 percent at least five times in 2018.
Through 2018, individual stocks in the S&P 500 Index have averaged realized volatility of 26 percent, an increase of eight percentage points over 2017 levels, bringing it in line with its 20-year average. But options markets are taking a more conservative approach for price swings in high-volatility assets through 2019, the strategists wrote.
While looking to 2019, they see an unusually low premium for put options on the SPDR Dow Jones Industrial Average ETF Trust, VanEck Vectors Gold Miners ETF and Consumer Discretionary Select Sector SPDR Fund indicating that investors are less worried about downside risks.
At the opposite end, Goldman's research found options investors are paying unusually high premium for out-of-the-money puts on bond ETF's such as the iShares iBoxx Investment Grade Corporate Bond ETF and iShares iBoxx High Yield Corporate Bond ETF as well as the and the United States Oil Fund.