Goldman Sees Overwriting Options as Way to Beat Vapid S&P 500
(Bloomberg) -- Interest in an options strategy that involves selling bullish calls while holding the underlying stock to generate income has increased substantially over the past six months as slowing economic growth shakes investors' faith in U.S. equities, according to Goldman Sachs.
Overwriting, as the strategy is called, has historically outperformed the buy-and-hold approach when stocks trade within narrow price ranges or decline, according to Goldman derivatives strategists including Vishal Vivek. Their research found that selling one-month, 10 percent out-of-the-money covered calls on S&P 500 Index stocks has led to an annual outperformance of 1.4 percent on average over the last 16 years.
"Since 2003, every buy-write strategy we tested outperformed the total return of S&P 500 on a risk-adjusted basis, regardless of strike selection," the strategists wrote in a report Wednesday.
While the S&P 500 has gained 19 percent since its Christmas Eve low, mounting concern about the health of the economy has recently broken the momentum. Economists surveyed by Bloomberg forecast a 2.5 percent expansion in U.S. gross domestic product this year, compared with forecasted growth of 2.9 percent in 2018. The average strategist forecast is for the S&P 500 to end this year at 2,889, about 3.5 percent above its current level.
With the prospect for limited returns over the balance of 2019, fund managers will be compelled to figure out the best way to generate additional performance.
The overwriting strategy has become more attractive after the historically low levels of volatility in 2017 and 2018, according to Goldman's strategists. Recent spikes have resulted in their baseline expectations for S&P 500 one-month single-stock volatility rising to 24.1, which will lead to higher premiums from selling call options.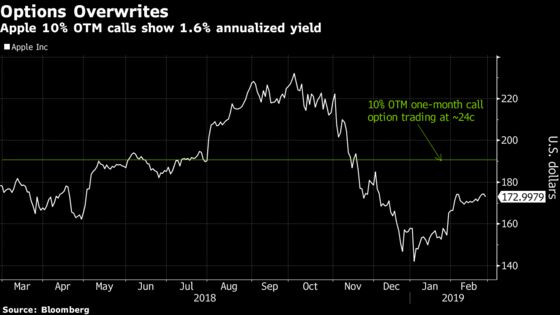 For example, Apple, the S&P 500's second-highest weighted stock with a current share price around $174, shows the March 29 $190 strike call option trading around 24 cents. If an investor was looking to implement the overwriting strategy on a rolling one-month basis, they could potentially collect $2.88 over a 12-month period, or the equivalent of 1.6 percent.
Of course, overwriting is not without its own risks. While the call options are covered by the underlying stock ownership, a rally through the strike price could translate into a sale as shares are called away, forfeiting further gains on the position.