Goldman Says Traders More Worried Over Single Stocks Than Market
(Bloomberg) -- October has been a month of tectonic shifts in equities, when investors decided individual companies didn't matter and braced for a storm that would knock everything over at once. Right? Wrong.
While benchmark indexes obviously bounced around a lot, there's evidence the most micro of micro forces -- earnings -- remained the biggest focus of traders. One indication is in equity options used to hedge losses in shares. According to Goldman Sachs, the relative cost of protecting against swings in the broader market has plunged to the lowest this year. But for the average stock it's the highest since February.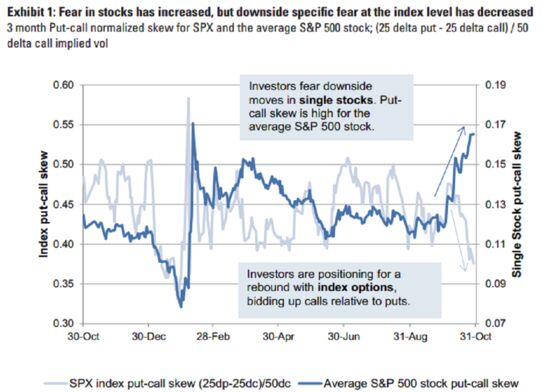 "Such a large divergence between these two measures is unusual," Goldman strategists including John Marshall and Katherine Fogertey wrote in a note to clients. "Macro investors we speak with seem focused on picking a bottom in the SPX which is oversold relative to other asset classes. Micro investors seem increasingly risk-averse following big earnings-day moves."
The clash in sentiment comes as the S&P 500 is down almost 7 percent in October, poised for the worst month in seven years. The current earnings season has done little to halt the equity rout as companies from Amazon to Alphabet provided forecasts that reinforced investor fear over a growth slowdown in coming quarters.
Rather than becoming a calming force, corporate results added another layer of stress to a market already grappling with higher interest rates and trade tensions between the U.S. and China. Half way into the reporting season, it's shaping up to be the most volatile in nine years.
Among 223 companies that reported through Friday, their shares swung an average 4.5 percent on the first day after the announcement, data compiled by Goldman showed. The reaction is the most pronounced since the third quarter of 2009.
While the backdrop of a turbulent market has played a role, Goldman found that single-stock volatility stayed elevated even with the effect of macro factor stripped out. After controlling for sector betas, the average stock moved 4 percent, an indication that most of the first-day earnings reaction was a function of their own idiosyncratic news.
"Macro has played a small role in single stock moves on earnings," the strategists wrote in a separate note.