Goldman Says Trade-Fear Driven Slide in China Has Gone Too Far
(Bloomberg) -- Chinese companies with significant business with the U.S. have seen their stocks underperform the local market by 45 percent since Donald Trump's election victory, and that probably overstates the hit from trade tensions, according to Goldman Sachs Group Inc.
"The declines in the Chinese equity market appear larger than warranted by the likely economic impact of even a more adverse outcome" from the trade dispute, Goldman analysts including Brian Chen, Blake Taylor and David Mericle wrote in an Oct. 4 note. "U.S.-exposed stocks have underperformed badly and the broader market reaction has strengthened in recent months."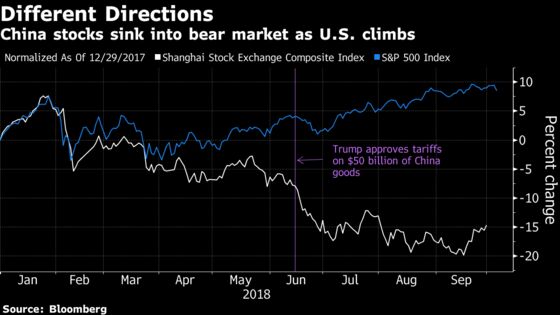 The team's analysis suggested that Chinese equities with significant U.S. exposure have done 15 percent worse than the broader market since U.S.-China trade frictions worsened in May. The Shanghai Composite Index entered a bear market in June even before Trump widened punitive tariffs to cover an additional $200 billion of Chinese imports.
While there have been some signs of a slowing in Chinese growth in recent months, most economists still see the country sustaining an expansion rate exceeding 6 percent into next year. Goldman economists see "fairly modest" macroeconomic effects from the tariffs.
Regional Asian markets have also been hit by the trade battles -- perhaps too much so, according to Goldman. In the past six months, Taiwan's main stocks gauge has slumped about 7 percent in U.S. dollar terms over the past six months, South Korea's Kospi index is down about 13 percent and the Indonesian equity benchmark has lost about 19 percent.
"The market reaction appears to have recognized the potential downside risks, but possibly underpriced the potential benefits of U.S. trade diversion to demand for local exports," the Goldman strategists said.
The fading broader reaction in U.S. stocks to the trade war, and moderate underperformance of shares more connected with China, has been "largely consistent with our expectation that the macroeconomic effects on the U.S. economy should be limited," the Goldman team said.