Goldman Says It's Time to Buy the Dip in Beaten-Down Emerging Markets
(Bloomberg) -- This year's selloff in emerging-market assets has created a whole lot of value, according to Goldman Sachs Group Inc.
The firm's asset management arm says it's time to buy as months of underperformance for developing-nation securities relative to their U.S. peers won't last much longer. The divergence was an anomaly, spurred in part by sanctions on Turkey and Russia as well as the Trump administration's corporate tax cuts, according to Sam Finkelstein, the co-chief investment officer of Goldman Sachs Asset Management's $800 billion fixed-income group.
Valuations have tumbled this year as the MSCI Emerging Markets Index slid into a bear market and a gauge of bonds headed for its worst year since 2013 amid speculation that developing nations would be hurt by rising interest rates in the U.S., global trade tensions and a surging dollar. U.S. assets have fared much better, with the S&P 500 Index beating the emerging-market index by a full 20 percentage points.
"Do I think it's a crisis or buying opportunity? I'd put myself in the latter camp," Finkelstein said. "Value is being created."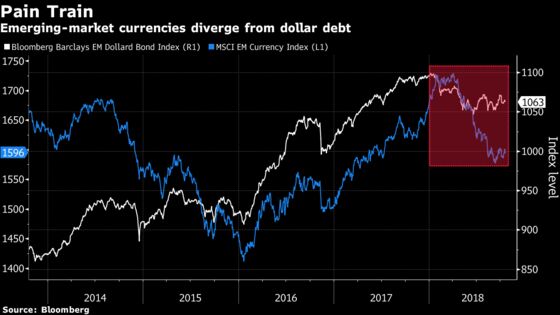 The money manager says there's now "reasonable value" in some of the world's worst-performing currencies this year: the Argentine peso (which has lost 49 percent), the Turkish lira (down 33 percent) and the Brazilian real (11 percent weaker).
Still, Finkelstein said he remains concerned by the deteriorating relations between China and the U.S., which is leading to a more cautious stance on Asian currencies that otherwise would be attractive due to their stronger fundamentals.
"The tension exceeds trade," he said. "There's intellectual property, access, influence in the world, South China Sea."