Goldman Says These 33 U.S. Stocks Can Withstand Tariff Turmoil
(Bloomberg) -- Goldman Sachs Group Inc. may not be optimistic about the effects of a Sino-U.S. trade war on American stocks, but it's trying to find the silver lining.
The firm's strategists have already estimated that a 25 percent tariff on imports from China could erase earnings growth for S&P 500 companies in 2019. On Monday, President Donald Trump signaled the rift remains with the world's second-largest economy, even as the White House ushers a new trading order with the likes of Mexico and Canada.
Stocks with high and stable margins have the pricing power to withstand rising input costs from tariffs, strategists led by David Kostin wrote in a Sept. 28 note.
"Companies with high pricing power are well-positioned to pass through input cost pressure to consumers, preserving high margins," Kostin et al. wrote. "The market typically rewards companies with high margins when the outlook for corporate profitability worsens."
The strategists sought outperforming Russell 1000 companies ranked in the top quintile of their sector; they then screened for steady and expanding gross margins in the past one, two and five years. The list of 33 companies includes the likes of Coca-Cola Co., Amgen Inc., VMWare Inc. and Sirius XM Holdings Inc.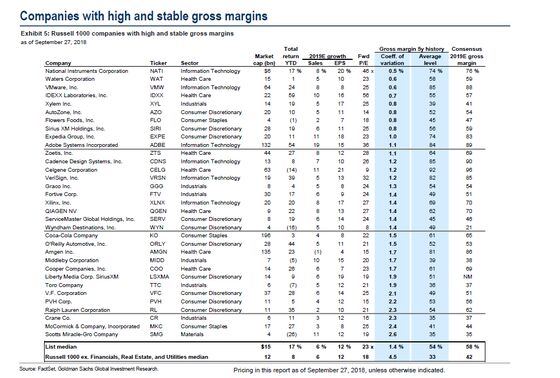 "As the boost from tax reform fades, firms with the ability to maintain or expand profit margins will become increasingly scarce and will likely be rewarded by investors," according to the report.