Goldman Says Selling Volatility Is More Attractive as the Year Ends
(Bloomberg) -- The recent surge in U.S. equity volatility has created an opportunity for options investors to profit by selling into what historically has been a period when price swings tend to stabilize, Goldman derivative strategists John Marshall and Katherine Fogertey wrote in a note.
Implied volatility in individual stocks jumped more than 20 percent in the past week, driven by global trade and OPEC concerns, according to the strategists. With limited catalysts likely over the next two weeks, options selling is an increasingly attractive strategy for the near term, they wrote.
"Equity volatility typically declines in December with low volumes and low new flow," they wrote. "While we continue to believe there are reasons to expect volatility to increase in 2019, we see greater potential for relief over the next three weeks."
Today's delay of the Brexit vote coupled with OPEC confirming its production cuts helped pushed volatility even higher. The Cboe Volatility Index jumped as much as 12 percent to 25.94.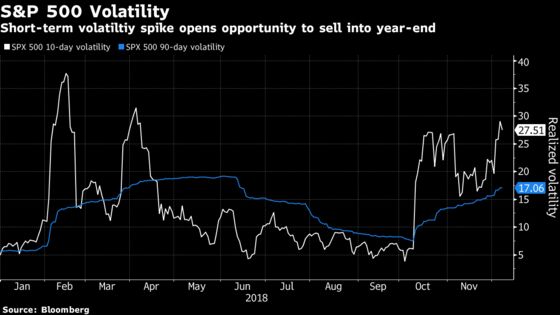 Goldman sees the top five overwriting candidates with strike prices 5 percent out-of-the-money and elevated volatility:
SNAP Dec. $6 calls
AMD Dec. $20.50 calls
TWLO Dec. $94 calls
NBIX Dec. $90 calls
W Dec. $110 calls