Goldman Says Keep Calm as Curve Narrows to Another 11-Year Low
(Bloomberg) -- Goldman Sachs economists are reiterating their plea to keep calm and carry on after a widely followed recession signal flashed brighter.
The gap between 2- and 10-year Treasury yields shrank to as little as 21.8 basis points Wednesday, reaching the narrowest since August 2007 -- a year that also marked the last time an inversion of the curve happened. The contraction has prompted traders and Federal Reserve officials to warn of the ominous risks to America's growth outlook.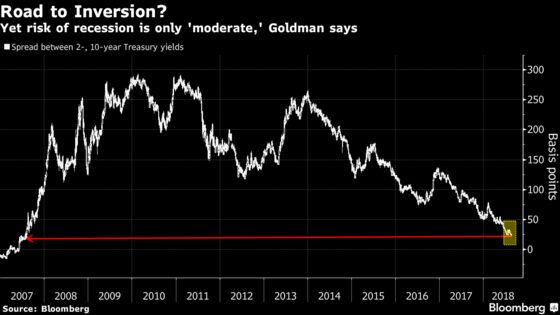 While the spread moving below zero has many times preceded recessions, the Goldman Sachs Group Inc. economists say its not a great predictive tool now for reasons including the fact that central bank debt purchases have crushed term premium -- the usual compensation investors demand to hold longer-term bonds.
"The historical correlation between yield curve inversion and recession is impressive," wrote Goldman's David Mericle and Daan Struyven, in a note. "But it can be misleading," they said, adding that they see the risk of a U.S. recession as only "moderate for now."
The dramatic fall in term premium has changed the typical signal the curve raises about how restrictive monetary policy is, they say. Given this, an inversion which typically had indicated that the Fed policy rate was hundreds of basis points past neutral (a level that is neither restrictive or stimulative), today an inversion could occur as soon as the fund rate hits neural or even before, they say.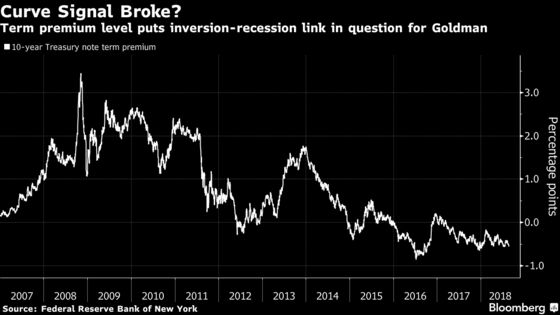 "The upshot is that the premise of using inversion as a signal -- that there is a consistent mapping from the slope of the yield curve to the probability of recession -- is not plausible," Mericle and Struyven wrote.
Goldman forecasts the unemployment rate will fall to 3 percent by early 2020 and say inflation and trend unit labor costs will remain a touch below 2 percent with inflation expectations holding on the softer side.
"We are skeptical that the slope of the yield curve adds much to this basic economic perspective," Mericle and Struyven said.
Even so, just on Monday Raphael Bostic, head of the Atlanta Fed, said that prospects for a curve inversion would prompt him to oppose further interest-rate hikes. And we may get an opportunity to hear more on this Friday from Fed Chairman Jerome Powell, when he discusses monetary policy at the Kansas City Fed's annual symposium at Jackson Hole, Wyoming.