Goldman Says Investor Bearishness Concentrated in a Few Sectors
(Bloomberg) -- Investors are pricing a lot more fear into individual stock options than they are into the S&P 500 Index, showing concern is concentrated in a few industries including health care and materials.
Single-stock skew -- a gauge of bearishness -- rose to the highest level in a year in the most recent episode of market volatility, while skew on the index has moved lower, Goldman Sachs Group Inc. strategists led by Katherine Fogertey and John Marshall wrote in a note Thursday. Skew measures the price of bearish versus bullish options, and goes higher when investors become willing to pay more for protection.
"This may suggest investors are buying the dips with calls and/or not hedging their exposures" on the S&P 500, the strategists wrote.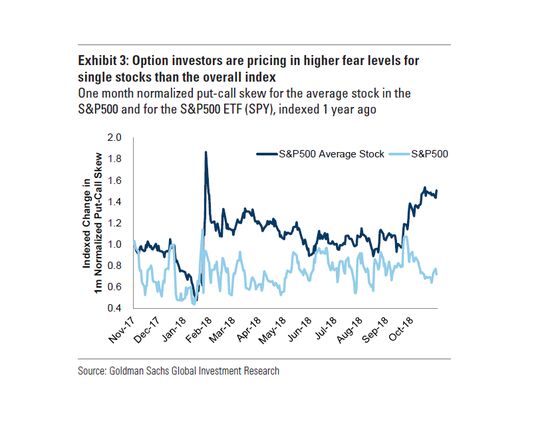 Investors seem most concerned about drops in health-care, industrial and materials stocks, with elevated concern also visible in financials and tech, according to Goldman.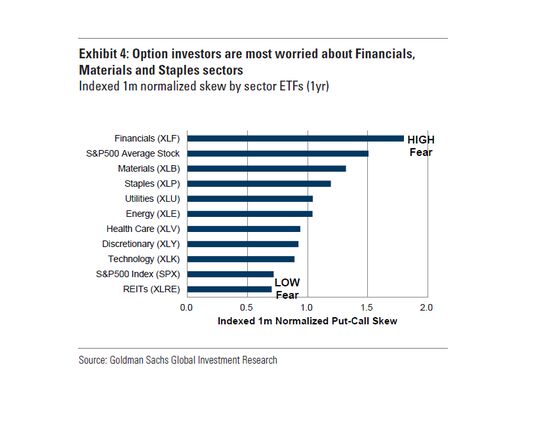 Goldman sees extreme bearish positioning in stocks including Microsoft Corp., Cisco Systems Inc., American Express Co., U.S. Bancorp, Waste Management Inc., Honeywell International Inc., LyondellBasell Industries NV and Air Products & Chemicals Inc.
In addition, some options trades in the retail sector are underpricing typical seasonal volatility, Goldman said in another part of the same note. They added that uncertainty around potential tariffs raises the potential for large stock moves in the coming weeks, and that January is the heaviest time for earnings preannouncements for the sector.
New Goldman trade recommendations:
Buy Fluor Corp. calls ahead of an analyst day Nov. 16
Buy Agilent Technologies Inc. calls to capture a solid quarter
Buy Dollar Tree Inc. straddles ahead of quarterly results
Buy Tiffany & Co. straddles for earnings, tariffs and holiday volatility